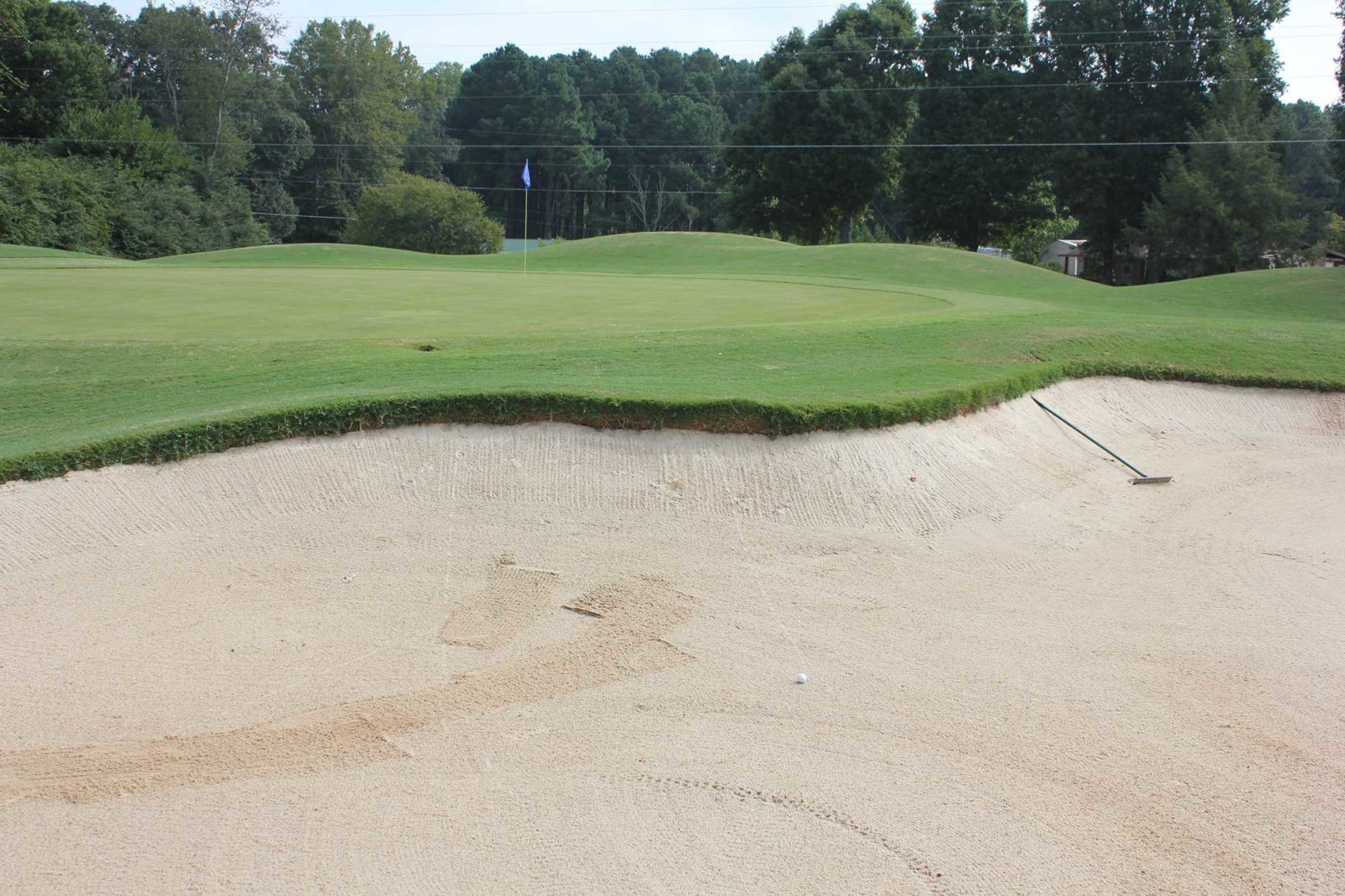 Bunker Sand
Other Names: Bunker Sand, G-Angle, White Sand, Augusta Bunker Sand, USGA Sand
Applications
Golf Bunkers, Sand Traps, White Bunker Sand
Key Benefits
Ideal Color, Prevents Fried-egg (buried) lies, Prevents crusting (no clay), Long lasting silica sand, Ideal infiltration rate
Specs
Angular to Sub-angular shape, Meets USGA Particle Size Recommendations, Washed to remove silt and clay, Designed for optimal penetrometer test
Georgia is known for its red clay and white bunkers! Bunker Sand is one of the most aesthetically appealing sands we supply, and one of the most hazardous, if you're a golfer. Sand traps are often defined by the contrast of green and white at each golf course throughout Atlanta. Our Bunker Sand is once again many products within one product. We offer a complete lineup of different sands that range in performance, color, and budget. Remember that just because a sand is white in color, that doesn't make it bunker sand. Also, don't confuse bunker sand with topdressing sand. They may have similarities, including following USGA recommendations, but the slightly different properties help define each one for its purpose on the golf course or on the turf.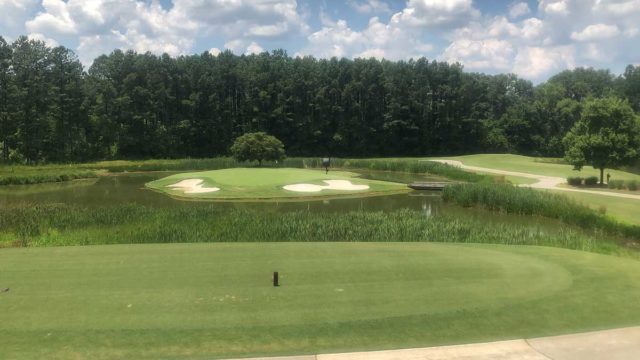 Let's start with color, since that is what you think of first.
As a golf course superintendent or an avid golfer, color really shouldn't be first on the list when deciding on what bunker sand is best. However, it is certainly one that golfers and golf fans have the most expectations. White sand is often the preference, as defined by Augusta. However, white sand doesn't mean bunker sand. We actually have varying shades from white, off-white, tan, yellowish/orangish, and even brown bunker sand. White sand is one of the most popular. Off-white offers the appeal of less glare, with a nice contrast. Various tints of white from yellow, orange, and tan offer the exceptional quality within a manageable budget. Brown bunker sand is preferred by courses for a more natural look. Regardless, of your preference we can supply your bulk bunker sand for any color sand trap.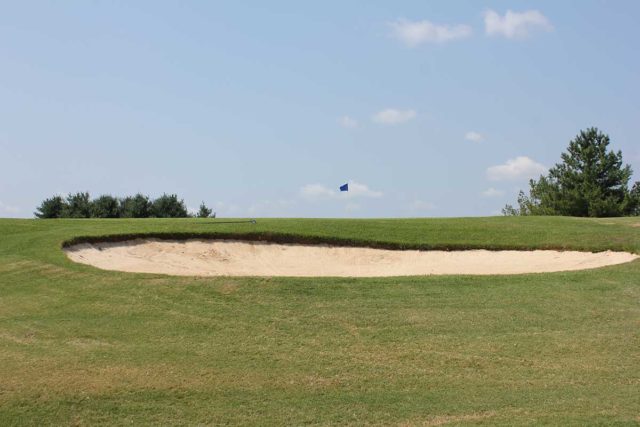 Let's get to the real factors now with sand particle size.
A primary way to define bunker sand is by particle size. This includes the actual sizes and number of particles within a size range. A sand analysis or gradation report is necessary to determine the particle size distribution. RSI has an in-house soil laboratory in Gainesville, Georgia to help develop sands and maintain quality control. Bunker sand particles need to be smaller than 2 mm (#10 mesh), which is considered gravel, and larger than 0.05mm (#200 mesh), which is considered silt and clay sized particles. The majority of the particles need to be between 0.25mm and 1.0 mm. The balance lies in the particles not being too coarse, ruining a new sand wedge or being hit onto the green, while still keeping enough of the larger particles to promote good drainage. Furthermore, the fine particles help provide a firm enough surface for the golf ball not to bury, but not so many fines that crusting occurs or the ball doesn't play well either. The key of particle size distribution in a well-sorted sand, meaning that it has plenty of all the particles in each size range in the sand. There is a term called uniformity coefficient (Cu) that measures this distribution (2.0-5.0 ideal range). This is the major factor in making a great bunker sand.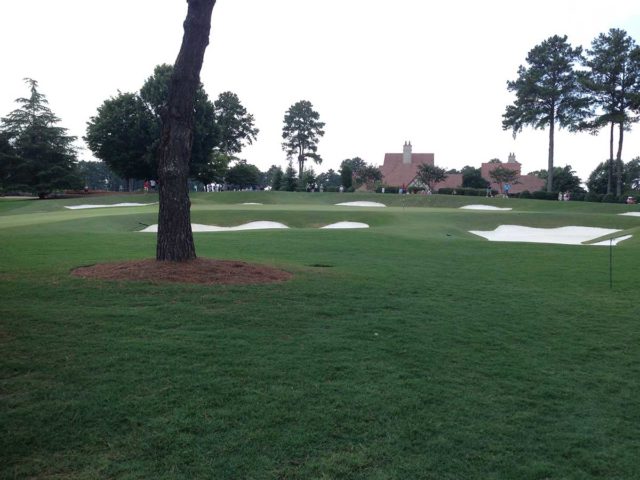 Particle shape matters too!
Sand particle shape is defined by angularity and sphericity. Think of an angular sand with sharp edges like a newly piece of broken glass. In contrast, a rounded particle is like a piece of beach glass whose edges are worn away and you can easily pick up and roll between your fingers. Angular or at a minimum sub-angular sand particles are preferred for use as a Bunker Sand. Sphericity refers to the overall shape of the particle, and whether it is more spherical (ball-like) or oblong (egg-like). Low to medium spheritcity is preferred with Bunker Sands. The reason for both of the preferences of particle shape is the tendency for fried-egg lies or buried-egg lies, in addition to bunker wall/face integrity. Higher angularity and lower sphericity tend to lead to a firmer surface that withstands the force of the golf ball landing, and also stays in place on the wall when irrigation and traffic occur within the bunker. We offer both manufactured sand (crushed) and natural sand options for your bunker, as these processes influence particle shape.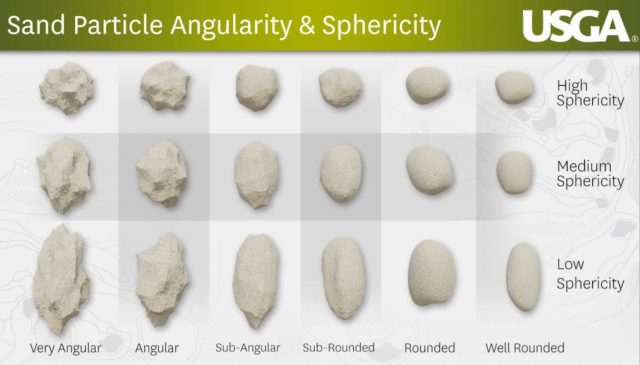 Infiltration rate needs to be enough in your bunker.
Infiltration or saturated hydraulic conductivity is how fast water moves into and through your sand. So, if you don't want a water feature within your bunker it needs to drain well. Typically, 20 inches per hour is the minimum recommended. Often new sand can drain 20-100 inches per hour. Remember, that the infiltration rate almost never increases over time, and also always decreases over time. Contaminants from the surrounding soil, wind, grass clippings, leaves, algae, and decomposition enter the bunker over time and lower its ability to drain water. So, starting with a higher than minimum range is a safety measure and maintenance of your bunker, especially if the contaminants are evident or substantial will help increase the lifetime of your bunker sand.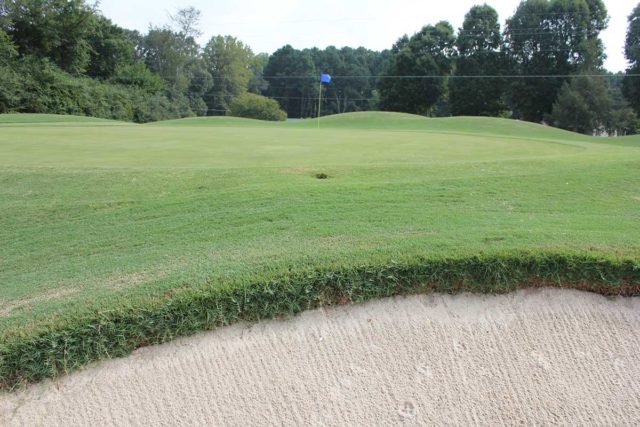 Silica Sand, not Calcareous Sand – less crusting and more durability (hardness)
RSI's Bunker Sand is a silica sand, not a calcareous sand. Crusting is the formation of a thin layer of material on the bunker's surface that leads to less desirable playing and infiltration conditions. Crusting is a result of too many silt and clay size particles. So, you do not want to start with those particles in a new bunker sand (i.e. non-washed sand). The other contributing factor is the durability or hardness of the sand. Silica sands are typically very hard and durable tending not to break down into finer particles. Calcareous sands are typically softer and more prone to weathering (from rainfall) and break down into small silt and clay sized particles that leads to crusting. Therefore, a clean, washed silica sand is preferred for your bunker.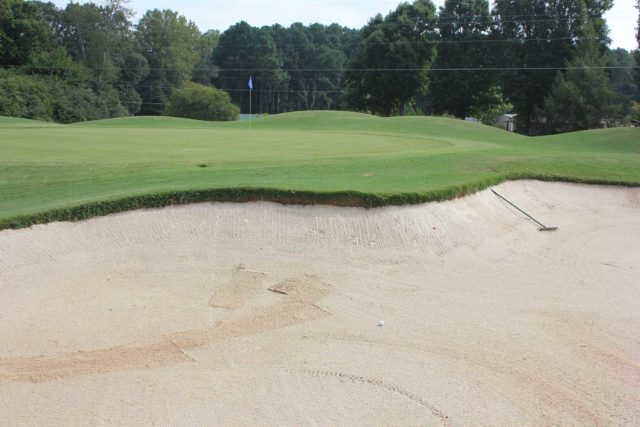 Make the right Bunker Sand selection for you!
There is a lot of information on bunker sand, because it matters to the golfer and the golf course superintendent. Functionally speaking, particle size and shape are the two primary factors. Financially speaking, budget is a real consideration for most clients. Preference and experience often lead golf courses here in Athens, Alpharetta, Roswell, Gainesville, Cumming, and Atlanta to deciding what Bunker Sand is right for their course. RSI has supplied many golf courses with bulk aggregate sand for maintenance and renovation of golf courses throughout Georgia. Give us a call and we will be glad to help with your golf agronomics and bunker sand supply!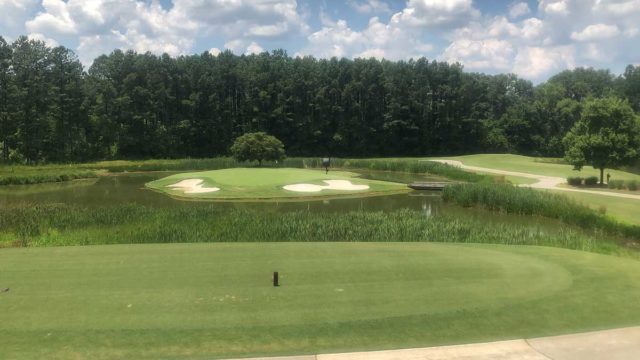 Bunker sand is simply the sand used in bunkers or traps on a golf course.  Bunker sand is often held to the standard look of Georgia's own golf course in Augusta.  However, having a brilliant white color isn't the most important characteristic of a bunker sand.  The size and distribution of the particles along with the shape of the particles is what makes a great bunker sand.  Often people ask for bunker sand knowing that it should be white in color but bunker sand may not be the best sand for other applications.  RSI supplies bunker sand that is brilliant white, off-white, and even dark brown bunker sand.
Bunker sand ranges in cost significantly.  Trucking costs from the mine also impact the cost per ton.  However, you can expect to pay on average $12 to $30 per ton plus trucking costs which are generally $10 or more per ton depending on the distance.  Some specialty bunker sands cost much more. 
You can use the same sand for both but they are not the same.  Topdressing sand is designed more for the purpose of topdressing turf and the gradation is composed of medium sized particles.  The same sand is not optimal for bunkers as it can become unstable and lead to fried egg lies or buried balls (low penetrometer readings).  However, your bunker sand should not contain particles that if hit onto the green cause damage (large particles).  Bunker sand is designed with more uniform gradation and angular particle shapes.
White sand has traditionally been the emphasis of some premier golf course.  However, around the country and world that has not been the case.  Locally sourced sands can come in a variety of colors that may offer a more natural look or less glare.  River Sand, Inc. supplies bunker sands to golf courses in brilliant white to the darkest brown color.
The USGA has recommendations and guidelines for selecting the best bunker sand.  These guidelines outline important characteristics of bunker sand including: Particle size; Particle shape and penetrometer value; Crusting potential; Chemical reaction (pH) and hardness; Infiltration rate; Color; and Overall playing quality.  Overall, a bunker sand should have most of the particles between 0.25 and 1 mm, a high penetrometer value, good infiltration rate, angular or sub-angular shape, and low tendency to crust.  This type of sand makes the ball remain in the bunker while not burying in the sand but also allows the bunkers to drain rainfall and remain playable. 
View All FAQs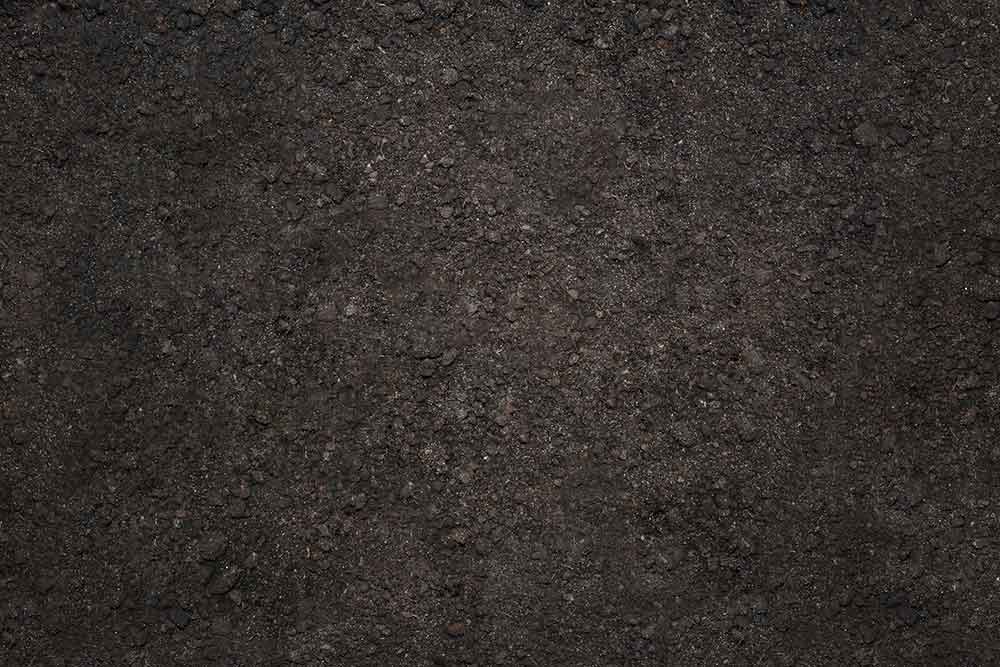 "If you have a project that requires any sand at all then River Sand should be your resource. They not only met our specs on varying levels of texture, but calculated our needs to do so. They not only cared about the sale, but the cause for which the need existed. I highly recommend anything that River Sand produces!"
— Brett B. | Facilities Director at Woodlands Christian Camp & Conference Center
Calculate Your Project
Determine how much product you need for your project and submit it to us for a free estimate, including delivery costs.
Dredging projects and In-Field Mix are calculated separately.
{{getResultLabel()}}: {{entry.result}}