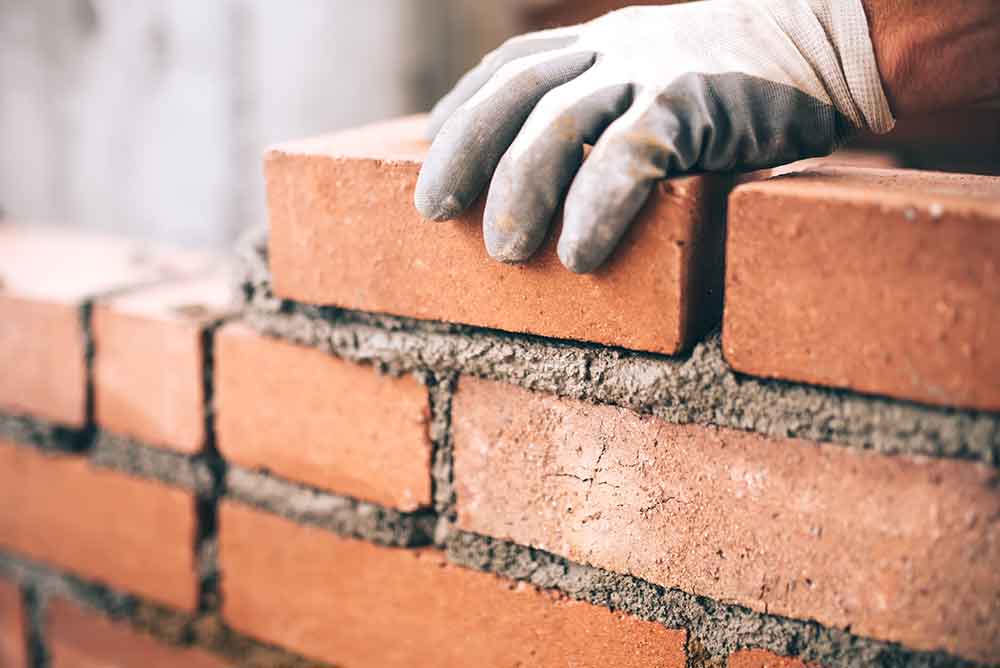 Masonry Sand
Other names: Mason sand, Masonary Sand, ASTM C-144, Play Sand, Mortar Sand
Applications
Mortar Mix for masonry work including bricks, blocks, grout
Beach Sand
Play sand
Pool Sand
Fill Joints of Patio Pavers, Bricks, and Stones
Paver Base
Key Benefits
Washed
Meets Masonry Specs
Silica Sand
Finely Graded Fine Sand
White Sand or Light in Color
Soft Texture
ASTM C-144 Spec (Upon request)
If you are searching for bulk Masonry Sand near me, and you are in Georgia, then you have found your source. Masonry Sand is one of our most popular sand products. Mason sand is defined by primarily its fine texture of grains that give it a softer feel. In contrast to River Sand and Construction Sand, it does not contain the larger grains of sand but concentrates more fine particles of sand. It is still a washed sand, meaning that the Masonry Sand is washed to remove the dust and clay particles that are undesirable for most applications. Masonry sand is also defined as a screened sand (no large grains of sand), silica sand (very durable), and a natural sand (not crushed or manufactured sand). The most popular use for Masonry Sand is for mortar mix for brick, block, and stone masonry. Mason Sand is often defined by color. Color is often misleading because we offer masonry sand in a variety of colors, but the most common preference is our white sand. Gradation is the key factor and a skilled mason can feel the difference when laying brick. ASTM C-144 is the most common specification for Masonry Sand. We have more than one Masonry Sand type so often we offer the most affordable and cost-effective Masonry Sand based on your location in Georgia. If your project requires ASTM C144 sand then we will certainly provide it as well though. We understand that a mason needs the right sand for mortar strength, sand to cement ratio, color matching, and cost.
However, other than masonry contractors, there are construction and landscaping projects, many homeowners and landscapers throughout Atlanta and North Georgia, that require a variety of uses for masonry sand.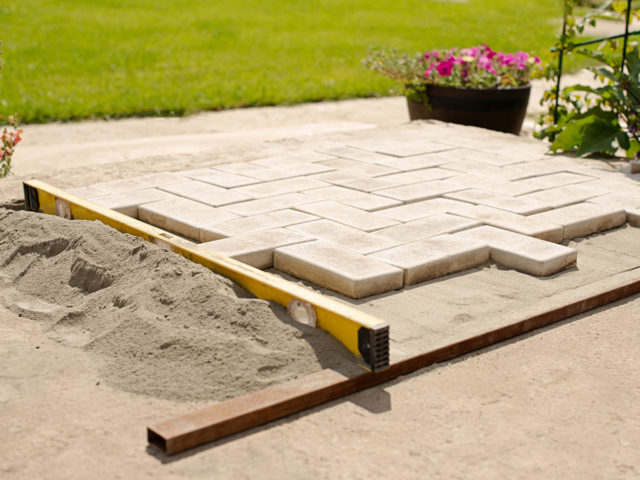 Masonry sand makes a great option to make your beach at the lake, pool, pond, or in your backyard.
We produce various shades of color from the true white sand beach look to a hint of orange sand, yellow sand, tan sand, or brown sand. Regardless, of the color sand you prefer we still keep the right gradation for the soft feel between your toes. The finer sand also tends to create a firmer surface for walking so that you don't sink in quite as much as the coarser sand options. RSI has provided sand for beaches on private lakes and ponds, as well as at various parks on Lake Lanier, Lake Burton, Lake Seed, Lake Rabun, Lake Hartwell, and other lakes in North Georgia. Beaches require a lot of sand, so the bulk option will give you the best price for sand on your project.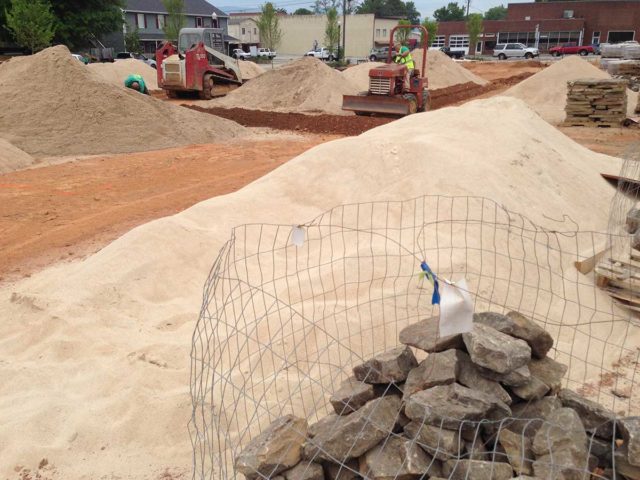 Masonry sand is the best type of sand for your above ground pool.
We get asked all the time, "what kind of sand do I need for my pool?" We actually sell a type of sand that we call Pool Sand. Usually, the pool manufacturers for above ground pools of 15', 18', 20', 22', 24' diameter suggest that you buy sand locally to place beneath your pool to level the ground and provide protection from any punctures. Our sand does both. It is fine enough to provide a smooth, firm surface, but does not contain any large pebbles or rock that would wear or puncture the pool liner. The typical pool requires 1-5 tons of sand which surprises some customers who need to buy sand. We can help you calculate how much sand you need for your pool. However, once the pool is taken down for the winter the sand should last and only have to be partially replenished the next year if any is lost. Keep in mind that buying sand in bulk is a much easier and cost-effective option for you pool than buying it in the bag from your local hardware store. Buying a ton of sand by the bag is difficult (or not possible) to transport in your car and you have to load and unload it multiple times. Our bulk delivery can often dump the sand in the area you want the pool, leaving you just having to spread it level which is manageable by hand.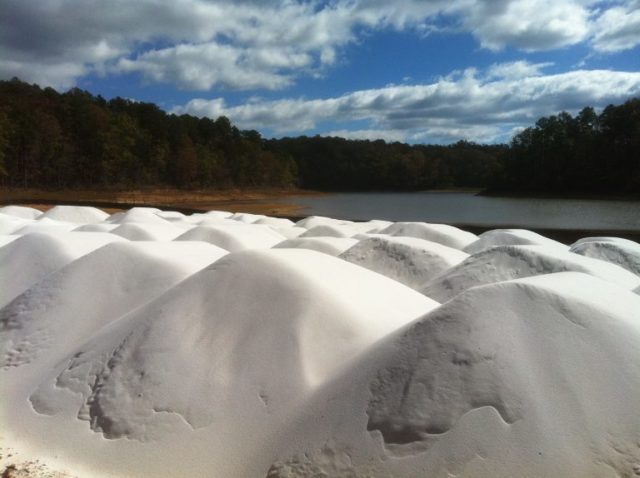 The best type of sand ever is Play Sand.
Our Play Sand brings the best kids out to the sandbox again and again for a childhood memory that we all remember. Masonry Sand, actually we have a specific type, makes a great Play Sand for your sandbox or playground sand. The soft texture feels great. The washing process removes the silica dust particles that are more prone to becoming air borne. The fine sand is perfect for adding just the right amount of water to build a sand castle or sand ramps for monster and dump trucks. Most sandboxes are big enough that buying sand in bulk by the dump truck load is easier and cheaper than buying it by the bag at the hardware store (and you don't have to load and unload it multiple times). Call us if you have questions about adding sand to you child's favorite playground or sand box.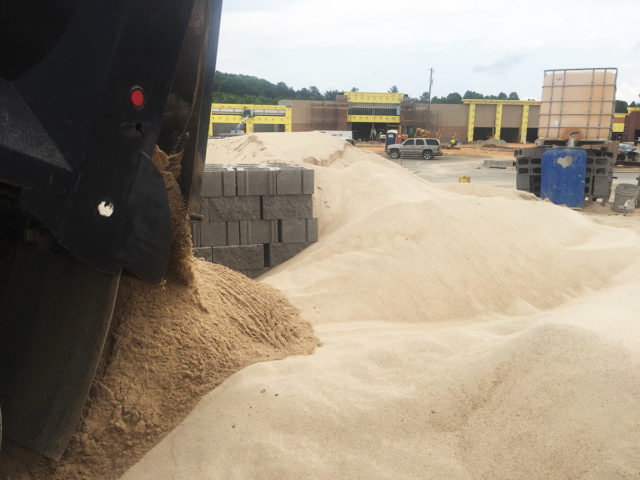 Masonry Sand also makes a great base for patio pavers or patio bricks.
The fine textured sand allows for the pavers to be placed on a level surface created with the sand upon the base and then the pavers slightly set into the sand to prevent movement. This type of sand is also ideal for filling in the gaps or joints between pavers or bricks along a path, walkway, or sidewalk. The sand is a great alternative to buying paver sand by the bag or polymeric sand for patios which add other chemicals, unlike our natural sand that does not contain any other additives.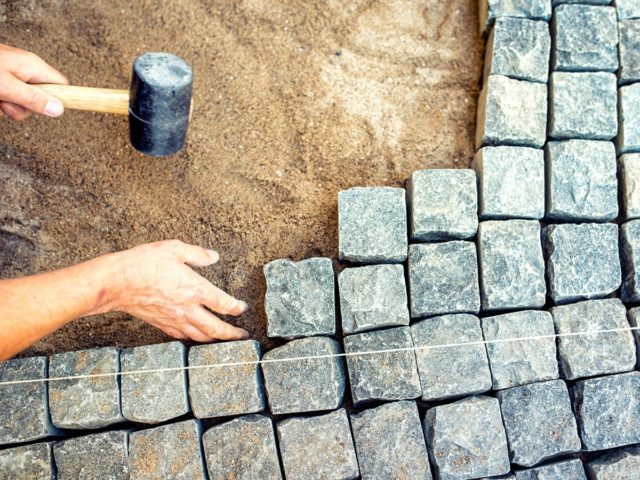 If you are unsure of the type of sand that you need for your construction or landscaping project RSI supplies many types of sand products that are produced right here in Georgia to suit all your needs. Give us a call and we can help you find out how much sand you need and the kind of sand that you need.
We are North Georgia's only masonry sand producer, with distribution from Gainesville, Athens, Alpharetta, Roswell, Cumming, and Norcross. We can provide you with the exact color and gradation of sand you need for your project, regardless of size or scope. Our masonry sand undergoes rigorous quality control measures to ensure it is simply the very best masonry sand on the market. Because we produce our own sand, you save middleman costs and get a top-grade product every time.
We can help you choose the perfect product for your project. Just give us a call at 877-499-SAND. We look forward to serving you!
Frequently Asked Questions
Do you have questions about Masonry Sand? We have answers!
Masonry (masonary or mason) Sand is a fine, screened, washed, sand used in mortar for bricks, blocks, and beneath pavers.  It is commonly used for other applications such as play sand (sandboxes), beach sand, volleyball sand, topdressing and other landscaping/construction projects.  However, there are other sands specifically designed for each of these uses that have better characteritics than masonry sand.  Masonry Sand was designed for brick mortar, and some of it can meet ASTM c-144 requirements.  Overall, it is a fine textured, soft feel, light colored sand.
Masonry Sand is designed for mortar mix to join bricks and blocks together.  It is also works great as a paver base.  It can vary in gradation but the fine texture allows for a smooth finish in mortar.  However, because of its availability at local construction and landscape supply yards it has become a popular alternative for many other uses.  It can be used as a play sand, topdressing sand, beach sand, volleyball sand, underlayment, and landscaping sand.  Masonry Sand can be a good fit for many of these uses but RSI has other sands specifically designed for each purpose.  So, you can choose what sand is right for your specific project.
Yes, masonry sand is a washed sand.  Washed sand refers to a process that sand is agitated in water to help "wash" or remove the fine clay and silt particles from the sand.  Sand that has not been washed will not bind well to the cement in mortar mixes, and creates weak joints.
Masonry sand can be used for volleyball courts.  Many masonry sands contain fine particles that tend to stick to players and also compacts too hard for optimal play over time.
Masonry sand can be used to level and topdress your grass or lawn.  However, Topdressing Sand is specifically designed for this purpose.  The difference is that topdressing contains more medium sized particles ideal for relieving compaction of clay soils, reducing thatch, and leveling without the sand shifting.  It is also easy to apply and to incorporate into the rootzone.  Overall, your turf will benefit more from topdressing sand than masonry sand for about the same cost.
View All FAQs
Related Articles
See what we've been saying about
Masonry Sand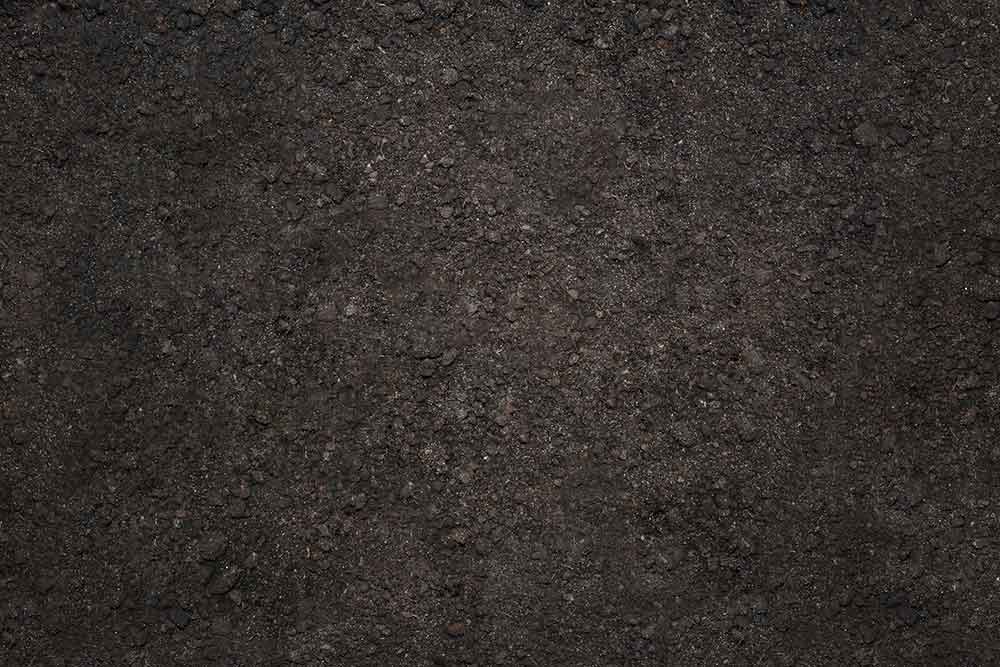 "Very Impressed! We bought a pool and needed 3 tons of masonry sand. My boyfriend went to pick it up and had never been there. The guys were super helpful and diligent. He was impressed with how quickly and clean-ly they got our sand. The guys there made sure to wash their dump bucket before getting our sand because the previous people had more gritty stuff. Great prices. Great people. Would highly recommend!"
— Melissa Insardi
Calculate Your Project
Determine how much product you need for your project and submit it to us for a free estimate, including delivery costs.
Dredging projects and In-Field Mix are calculated separately.
{{getResultLabel()}}: {{entry.result}}