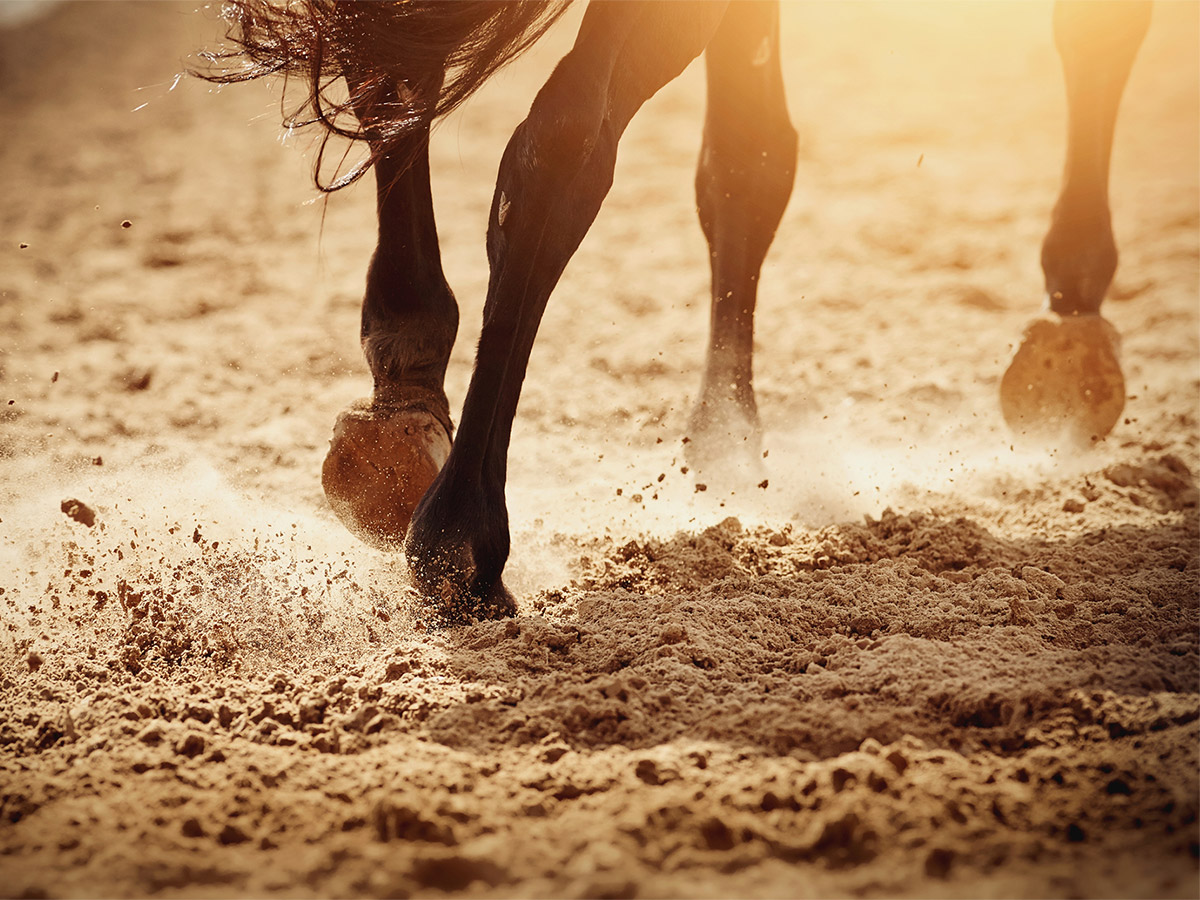 River Sand offers a whole line of footing products, including our Arena Sand. Over a couple of decades ago, our sand products led us into more conversations with equestrians, vets, farmers, and trainers. There was a need for more information about footing and what the best sand was for a particular arena. With the questions came answers and feedback from the barnyard enthusiast to the top Olympic level riders. Our interest was compounded by our team members competing, training, and growing up on farms as well. Our ability to change the sand based on needs was unique, and our knowledge base widened to benefit our clients.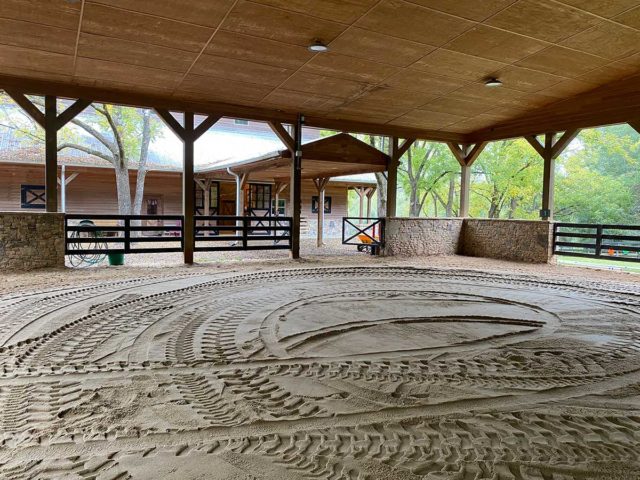 Footing, Construction, Installation, and Maintenance
River Sand is now also an industry leader in both Arena Sand and Footing as well as Arena Construction and Maintenance Services. We offer complete arena construction projects from start to finish as well as maintenance on existing horse arenas. Let us help you answer all your questions including:
What sand will work best in my arena?

Most people think all sand is the same but that is not true

Where should I build my arena?

Consider topography, cut/fill volumes, access from the barn/pasture, aesthetics

How to build a horse arena?

The design depends on the style of riding, budget, location, and size

How to restore an existing arena?

The protection of your base is key, if not problems will continue to show up on top

How to get the best arena for my investment and style of riding?

Determine if a clay base, or adding a sub-base is needed, and what size can fit into your area

How much does it cost to build an arena?

Footing is a key component but can be calculated prior to construction but grading is the first critical part that determines how well your arena will function

Do I need a round pen?

A round pen, usually 50-60' in diameter, makes a great safe place to train and lunge your horse without creating issues in your arena

What is the best arena drag?

If you ask each manufacturer, they have an answer. However, we recommend different arena drags based on arena size, budget, and available equipment (tractor, atv, lawn tractor, etc.)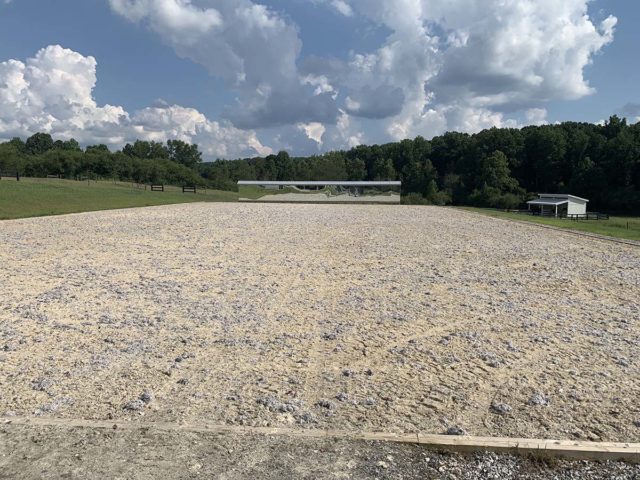 Most of our arena solutions are designed for you and your discipline of riding on your particular property.
Laser grading is part of our arena construction and maintenance services.  Our machines are automatically controlled by a laser set on grade for less than ¼" accuracy within the arena.  Laser leveling or grading does not always mean just grading the arena perfectly flat.  Flat arenas are best for indoor or covered arenas.  Outdoor horse arenas need a certain degree of slope but not too much for proper drainage and rapid recovery.  Laser grading is not an absolute necessity, but it adds a degree of consistency within your arena.  Consistency is what will give you and your horse confidence, and that will lead to optimal performance.  Our arena construction services can take an idea of an arena to the completion.  RSI can work within any budget and advise the best path based on cost, expectations, and riding preferences.  We also offer maintenance tips from watering, fencing, and dragging.  Often a periodic grading of an arena for maintenance can help restore proper drainage and depth of footing in your arena.
Proper arena footing is one of the most important aspects of promoting the performance and health of your horse. Over the years, River Sand Inc. has worked with trainers, veterinarians, and long-time riders from downtown Buckhead, extended north into Alpharetta (near Wills Park), Milton (and it's mini-farms), Canton, Flowery Branch, Cumming and Gainesville.  RSI worked to develop arena sand that will work with every equestrian discipline.  We even deliver on our spreader truck at no additional charge to spread your footing upon delivery which saves you time and money!
River Sand Inc.'s arena footing sands provide the right mix of traction and cushioning for your horse's joints, and our special blends provide both proper drainage in wet conditions and dust reduction for dry days. Our arena footing can be custom-mixed to suit your needs.

Arena Sand & Footing
Arena sand is one of River Sand Inc.'s specialties, as we have strived to provide the best sand in the market over the years. Our arena sand helps to cushion joints and cartilage and gives riders the feel they crave in the arena. Our process removes rocks, dust, and provides the right gradation for your horse.
Our arena sand is specially mixed just for horse footing. Our arena sand is mixed to provide adequate drainage during wet conditions and reduce hazardous dust in dry conditions. Our sand is sub-angular in shape for increased traction and improved cushioning abilities.

Gradation and Add-Ins
Gradation is key when selecting proper sand for horse arena footing. Your equestrian discipline will determine the gradation of the sand footing you need. RSI even has an in-house laboratory to test our sand and even your existing sand.  We also supply and blend crumb rubber, synthetic fibers or textiles, calcine clay, and other materials by request.  We have multiple options for geo=textile purchases and blending.  RSI can blend fiber into your existing arena, deliver pre-blended sand with fiber, or blend sand with fiber on your farm before installing.  Our experience with different types of fiber and sand blend can simplify the decision-making process.  RSI can also help you match the sand and fiber from your favorite event venue at an affordable cost.
Don't take risks with sub-par arena sand!
Many sands sold by our competitors lead to compaction, dust and serious health issues for horses and their riders. Manufactured sands may be great for a base, but they are not necessarily right for the footing. Proper footing is one of the most critical aspects of your horse's performance.
Don't trust a dump truck driver to make sure you get the right sand for your arena!
Please call us for more information and questions about your arena.
We can help you choose the perfect footing for your project. Give us a call at 877-499-SAND. We look forward to serving you!
Calculate Your Project
Determine how much product you need for your project and submit it to us for a free estimate, including delivery costs.
Dredging projects and In-Field Mix are calculated separately.
{{getResultLabel()}}: {{entry.result}}