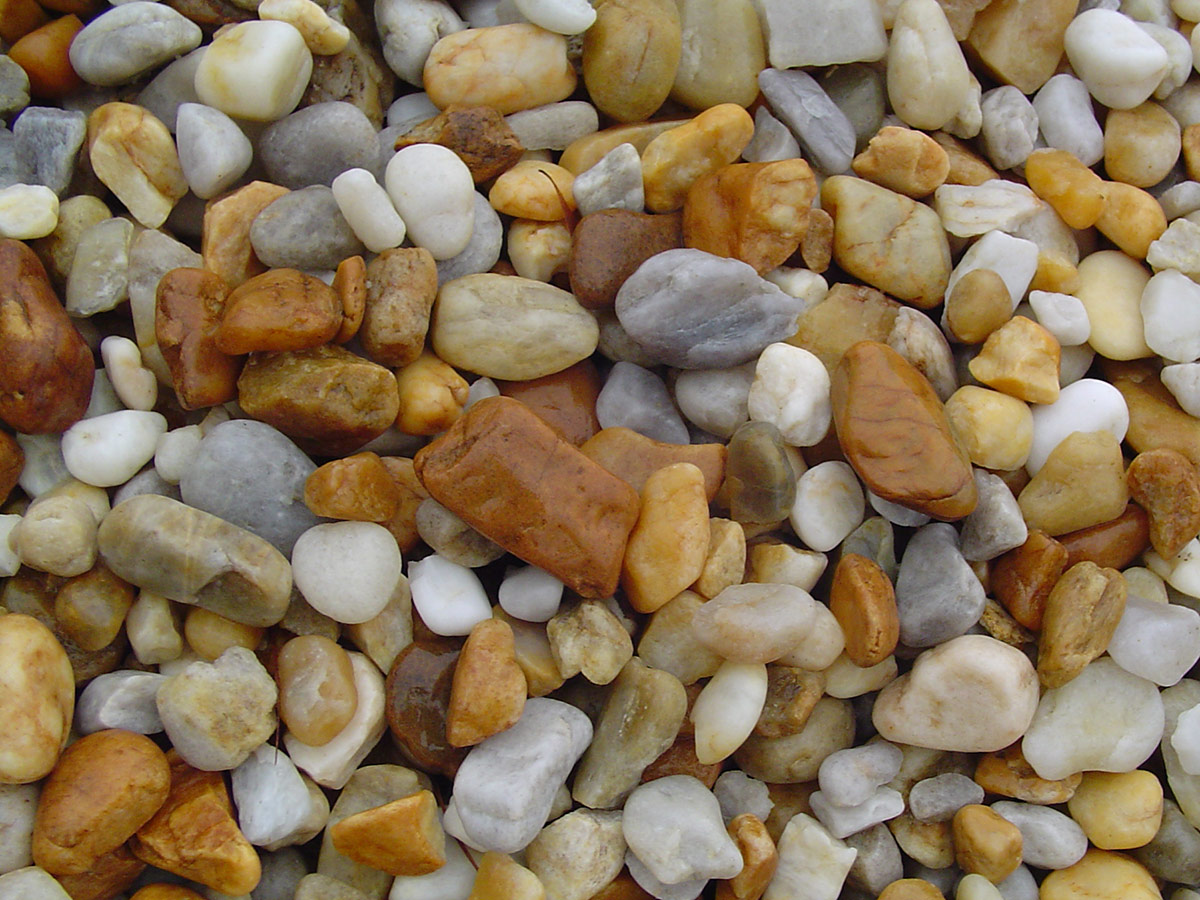 Pea Gravel
Bulk River Rock, River Gravel, Pea Gravel, Egg Rock, Pea Pebbles, River Stone, Deco Rocks, Mexican Pebble, White Pebbles, Washed Pea Gravel, Bulk River Rock near me
Applications
Decorative stone; Decorative gravel; Walkway; Gardening Decoration; Driveway gravel; Flower Beds; Fire Pits; Dry Creek Beds; Pool borders; Landscape Accents and Edging; Porch Border; Erosion Control; Building Edging; Landscaping; Parking Lot Islands; Koi Ponds
Key Benefits
Beautiful natural look; Permanent alternative to mulch or pine straw; Long-lasting and will not fade or decompose; Does not attract pests; Will not float or easily erode; Easy to maintain and deters weeds naturally; Reduces erosion under porches and around building drip lines; Durable driveway material
Specs
Smooth, rounded; Multiple sizes from ½" to 14" but Pea Gravel generally refers to the smaller sized portions; Uniform; Screened by sizes, free of sand; Color varies but typically tan, white, brown shades; Durable
Pea Gravel pebbles are our smaller sized river rock with smooth, rounded edges.  Pea Gravel is one of the most beautiful products we offer that will enhance your landscape with a long-lasting, natural look.  The different earth-tone shades of pebbles range from white, tan, brown, and orange.  Pea gravel is a great, long-lasting addition to any landscape and it is almost maintenance-free. It also offsets heat and allows water infiltration, making it a great alternative to pavement, even suitable for walking on with bare feet. Driveways, walking paths, and landscaped areas are the most popular projects that we supply Pea Gravel for homeowners, landscapers, and contractors.
Pea Gravel Supplier: How much Pea Gravel do I need? Is it better to buy Pea Gravel in bulk or by the bag?
If you know the area(s) that you will need to place Pea Gravel then our calculator may be the best option to find out how many tons you will need.  Tons may sound like a lot but often it takes much more than you think to cover a path, flower bed, or driveway.  Generally, 2 inches of depth is the minimum amount we recommend.  This depth allows for some disturbance of the surface (i.e. walking on it) without being able to see the landscape fabric or soil beneath the gravel.  A maximum of 4 inches is generally acceptable, even on driveways.  If you need more depth, a cheaper base for fill such as Crusher Run or Fill Dirt may help you save money to reduce the amount of Pea Gravel needed for your project.  Many clients purchased bag after bag of Pea Pebbles at the local hardware store, only to find that they didn't have enough.  We recommend that you first determine how much Pea Gravel that you need and consider the method in which you need to place the pebbles.  Bulk Pea Gravel will most likely save you time and money if you need more than one ton.  Also, consider access to the area you need the Pea Gravel.  Can you dump the Pea Gravel nearby or place it with equipment (tractor, wheel barrow, shovel, etc.) into the area you need it?  The good news is that once installed, unlike Mulch or pine straw, Pea Gravel is going to last!  Also, we have been supplying the same relative color of Pea Gravel for decades locally sourced, so that you can be sure you can match the gravel for future projects.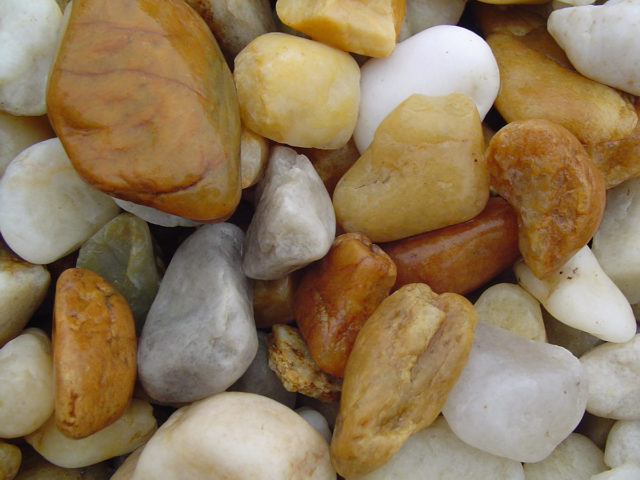 Crushed Pea Gravel vs. River Pea Gravel
We also offer an alternative to the River Pea Pebbles or Gravel.  Crushed pea gravel, or crushed gravel, is another option that is different in look, shape, function, and price.  Crushed stone or Gravel comes in various sizes and #89s and #7s are two of the most typical sizes of rock that can be considered Pea Gravel as well.  Our granite quarries here in Atlanta and the rest of Georgia typically produce a white to black, but more commonly light to dark gray gravel with angular edges.  This type of crushed pea gravel is washed and screened to give a consistent size and remove fine dust particles.  Often the gray colored crushed stone is used for the same purposes but at a lower cost per ton, often less than half the price per ton delivered.  #89s are the most common size considered Pea Gravel and consists of minus 3/8" rocks.  The angular shape of crushed Pea Gravel offers a little more stability as it tends to lock together slightly more.  If you have a preference or questions be sure to specific which Pea Gravel product you prefer in a call or email to River Sand, Inc.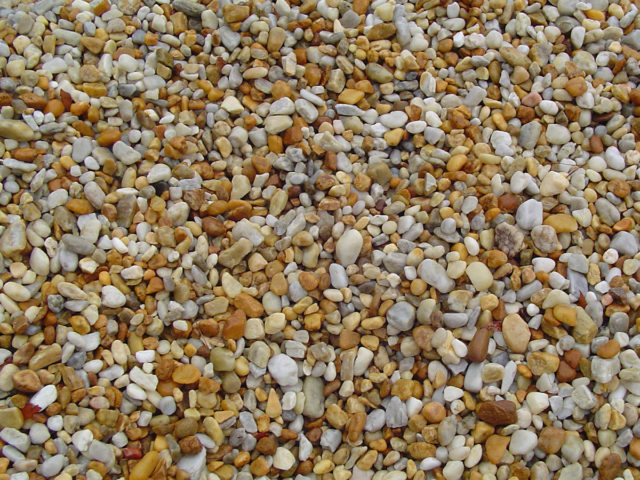 Should I use Pea Gravel for landscaping?
Pea Gravel is both functional and beautiful.  As an alternative to Mulch, it lasts longer, retains moisture, doesn't promote bugs/termites, and is easily maintained.  Using it in the driveway offers a unique appeal that concrete, asphalt, and gray gravel cannot produce.  We deliver Pea Gravel to homeowners in Athens, retail landscape yards in Gainesville, landscapers in Alpharetta, parks in Cumming, and everyone else in between.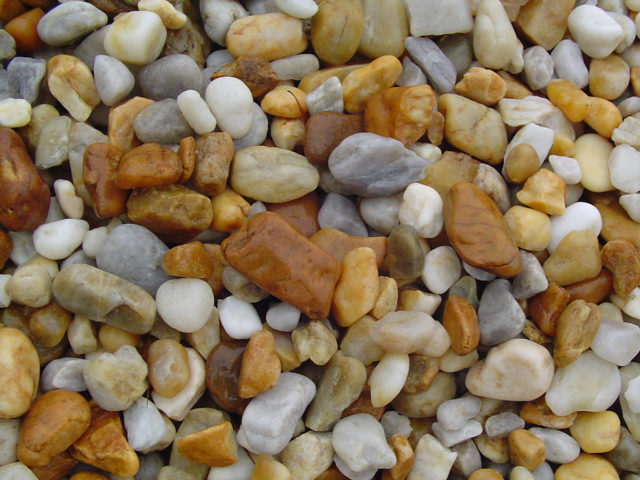 We Deliver!
RSI supplies bulk Pea Gravel by the load to contractors, landscapers, homeowners, and anyone else for all types of landscape projects.  River Sand, Inc. is your bulk landscaping supplier and source for construction materials including sand, soil, and gravel. We are ready to deliver our Pea Gravel Pebbles for your project today!  Call for a quote and to schedule your Pea Gravel delivered!
Frequently Asked Questions
Do you have questions about Pea Gravel? We have answers!
Pea gravel is a smaller rock that is great for use on:
Pathways, walkways
Fire pits
Ground cover around sidewalks, porches/decks, gardens
Drainage projects
Patios
Playgrounds
Driveways
Camper or RV pads
Grave sites and cemeteries
When properly maintained and installed pea gravel can last indefinitely as it does not decompose like mulch or pine straw.  Pea gravel should not be used where water flows in concentrated areas (larger river rock will work).  When placed on a driveway pea gravel is extremely durable but may need to be replenished over years of high traffic. 
RSI supplies both pea gravel that is from a river that is smooth, rounded pebbles and crushed from rock that is sharp, gray pebbles.  Both are very functional.  The granite gravel is more affordable but the river rock is very attractive. 
Pea gravel or pea pebbles make a great surface to walk on.  The small gravel is not slick and drains water rapidly.  Pea gravel creates a relatively smooth surface compared to larger gravel that you can feel the edges beneath your shoes and tends to shift your feet. 
Pea gravel will not move with only direct rainfall on it.  However, concentrated flows of water such as near downspouts may push the gravel out of place.  You can reduce these areas of concentrated flows and disperse the flow evenly to prevent pea gravel from moving or consider using a larger sized river rock. 
View All FAQs
Related Articles
See what we've been saying about
Pea Gravel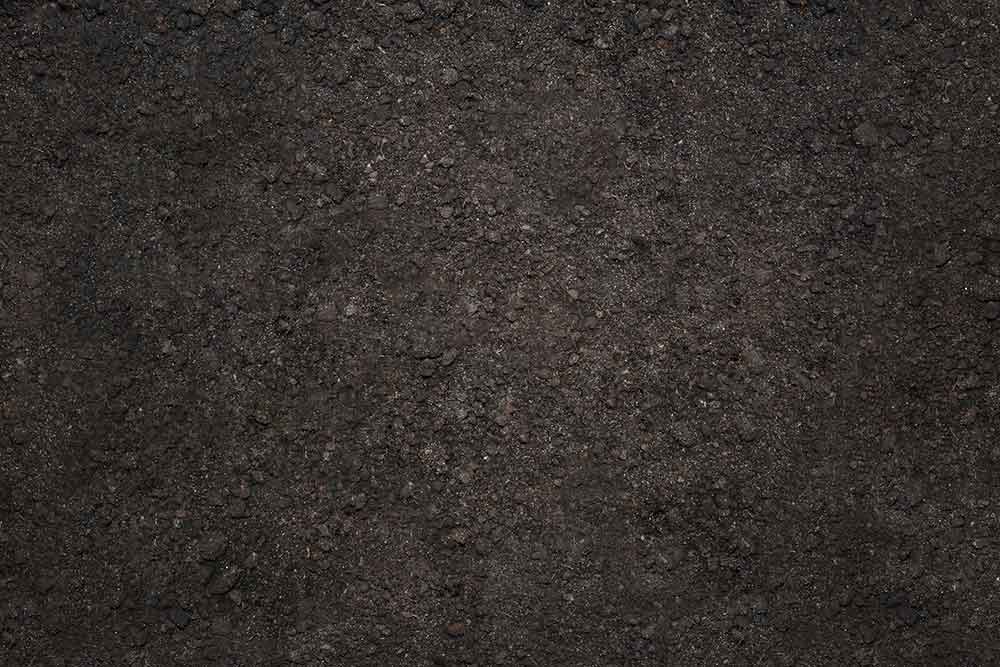 "We have used this company for many years and they have always met our expectations. Their staff is very helpful, their products are what they say they are, and the material is always delivered on time by good drivers."
— James Laroway
Calculate Your Project
Determine how much product you need for your project and submit it to us for a free estimate, including delivery costs.
Dredging projects and In-Field Mix are calculated separately.
{{getResultLabel()}}: {{entry.result}}