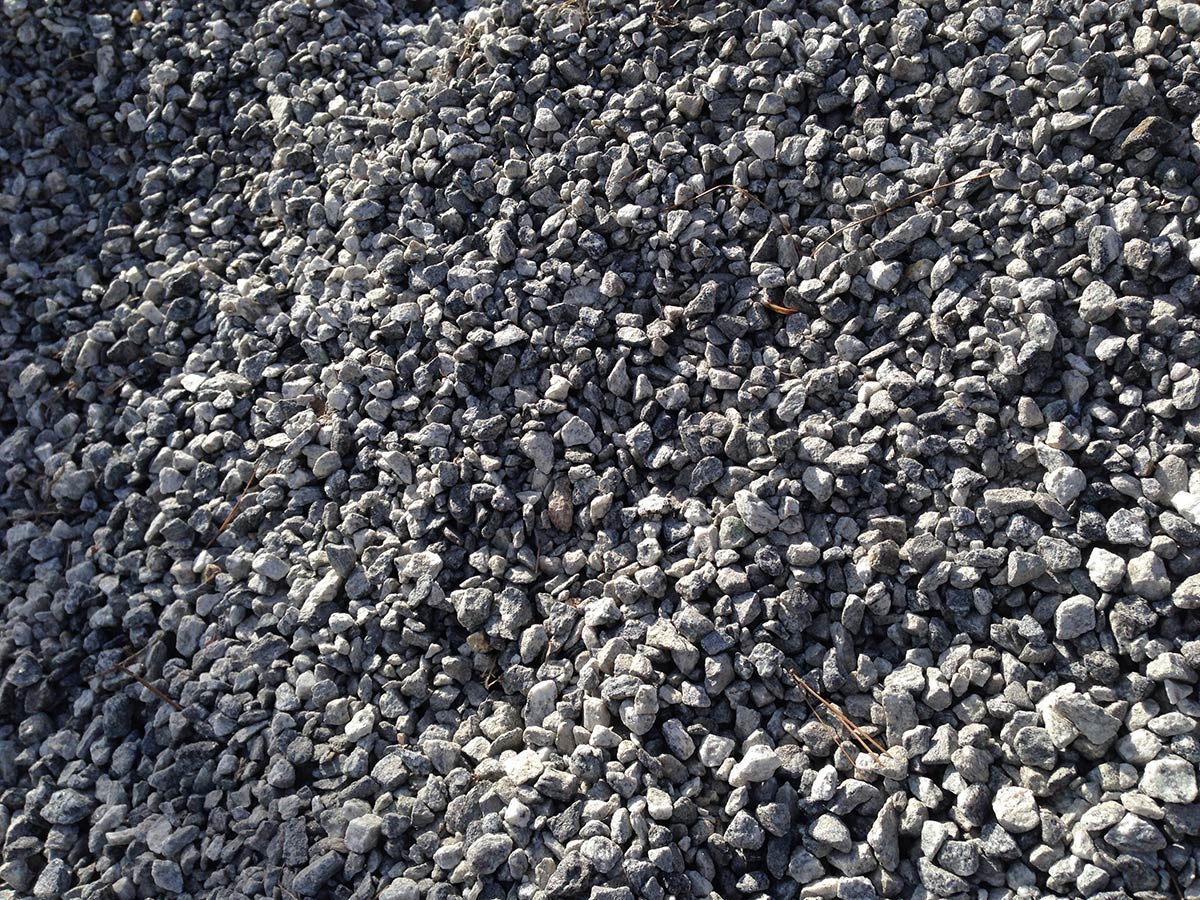 Gravel
Gravel; Stone; Crushed gravel; Crushed stone; Crushed granite; Coarse Aggregate; Driveway gravel; Crusher Run; Crush and Run; GAB; Road base; Baby Surge; #57s; #4s; #89s; Grey Gravel; Cheap Gravel; Gravel for sale; Decomposed granite; Dump truck load of gravel, Bulk Gravel near me
Applications
Driveway Gravel; Concrete; Construction Entrance; French Drain Gravel; Carport/Garage Gravel; Road Base; Walkways and Patio Base; Permeable Pavers; Arena Base; Drainage and Erosion Control; Landscape Accents and Edging; Porch and Building Edging; Landscaping; Parking Lots; Retaining Walls; Backfill;
Key Benefits
Durable, hard rock excellent for driveway stone; Multiple gravel sizes available for specific uses; Long-lasting; Rapid drainage; Creates a solid base for foundations of buildings, parking areas, pavers, etc.; Reduces muddy areas; Provides strength in concrete mixes; Aids in erosion control; Beautiful shades of gray coloring is typical; Does not contain contaminants (metal, wood, trash, etc.)
Specs
Angular, Durable, Crushed Granite; Washed (upon request); Multiple sizes from <3/8" to 14"; Uniform; Meets DOT and/or ASTM specs upon request (GDOT Coarse Aggregate); Screened by sizes; Color varies but typically grey shades
Gravel refers to our line of crushed granite rock products.  Georgia has some of the best sources of crushed granite stone.  Crushed gravel is an excellent choice for many purposes.  The most popular uses are for driveways, paver/patio base, parking areas, erosion control, drainage, and concrete.  Crushed gravel is typically angular in shape, gray in color (with white to black variations), and comes in a variety of sizes.  The multiple size options allow you to choose which gravel is right for your project.  RSI supplies all of the sizes in bulk dump truck deliveries to your location whether it be in Atlanta or beyond such as Athens, Commerce, Gainesville, Cumming, Alpharetta, or Clarkesville.  Finding the right size or type of gravel are the two most common questions we answer about gravel.  Let's start with explaining the size of gravel.
What size gravel do I need?
Gravel is blasted from solid rock in to large pieces from the quarry, before it is crushed, screened, and portions of it washed to separate all the different sizes of rocks.  Some products have a very specific size of gravel and some have a mixture of sizes.  Larger stone is generally named as follows in order of increasing size:
Baby surge
Type 3 (Type III) rip rap
Type 1 (Type I) rip rap
Surge stone
Pit Rock, Shot Rock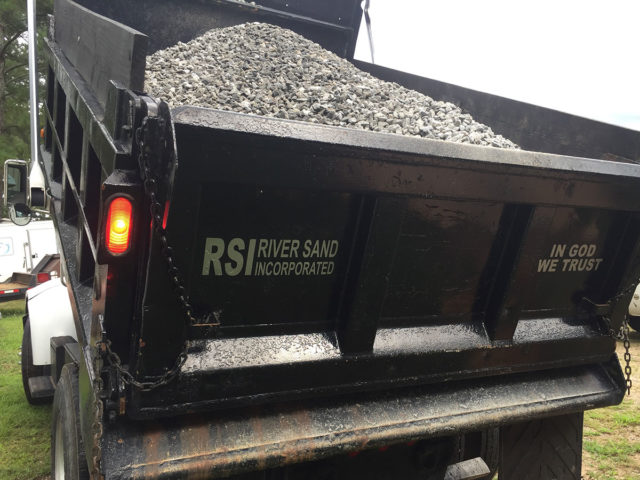 Generally speaking most gravel is less than 2 ½" in size.  The "Size No." or "Size #" is a way of speaking about gravel products that have been screened to different sizes.  The Size #'s range from 3 to 9 for gravel products.  Keep in mind, that smaller Size #'s  indicate larger gravel sizes, and vice versa.  Furthermore, it is common to combine Size #'s such as #57s to indicate that a product is a combination of #5, #6, and #7 gravel sizes all in one product.  Here is a list of gravel available with the most common sizes highlighted*.  For most projects, the common sizes and types are the best and most affordable.
#3 1" to 2"
#34 ¾" to 2"
#4 ¾" to 1.5"
#5 ½" to 1"
#56 3/8 to 1"
#57 3/16" to 1"
#6 3/8" to ¾"
#67 3/16" to ¾"
#7 3/16" to ½"
#8 3/32" to 3/8"
#89 3/64" to 3/8"
#810 Sand mixed with gravel up to 3/8"
#9 3/64" to 3/32"
#10 Sand
GAB Mixture of all sizes, from sand to 2", to specifications
Crusher Run Mixture of all sizes, from sand to 2", without specifications
*each product may contain small percentages of finer sized particles included; sizes are based on screen sizes so elongated gravel pieces may be larger than the size listed
What kind of gravel do I need?
Finding the right gravel for your project can be difficult.  After decades of answering questions about gravel, here are our most frequently asked questions about gravel with an answer:
What kind of gravel do I need for my driveway?
#57s or Crusher Run are the two most common and best options for driveway gravel.  57 Gravel is made of gravel alone and is the best option for most driveways because it is composed of long-lasting gravel.  Crusher run is a blend of gravel and sand.  Crusher Run is the cheapest option per dump truck load.  One appeal is that it results in a smoother finish once compacted on the driveway.  In Georgia, granite (gray colored) gravel is typically the most affordable and practical option.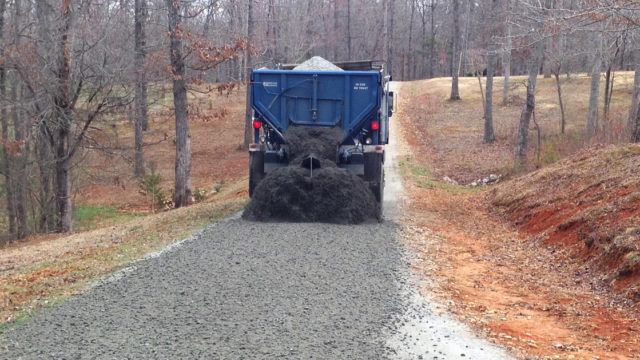 What is crusher run gravel (which is often called crush and run or crusher gravel)?
Crusher Run is a blend of different sized gravel and sand. The blend is ideal for creating a solid surface that compacts easily and provides a solid base. It is one of the most affordable gravel products. In Atlanta, Alpharetta, Cumming, Gainesville, Athens, and surrounding areas throughout Georgia Crusher Run is composed of granite.
What is the difference between #57s and Crusher Run?
57 Gravel is composed only of pieces of rock and Crusher Run has sand mixed in with the rock.  Both are made from the same granite source.
How much gravel do I need?
The best way to find out how much gravel you need is to use our Calculator.  The weight of Gravel ranges from 2,400 to 2,900 lbs per cubic yard, so the best rule of thumb is 2,700 lbs per cubic yard, or 1.35 tons per cubic yard.  Generally, speaking a ton of gravel can cover 80-100 square feet with a 2" depth.  For driveways, you can assume 8 to 10 feet in width for estimating or calculating and most driveways more than a hundred feet in length need a dump truck load.  Projects can range from one ton to thousands of tons, and we can deliver any amount.  Again, our calculator is the best tool but if you have questions we can help over the phone to make sure you get enough but not too much gravel.
Here is a list of the most common sized gravel along with the most popular uses:
#4

Construction entrances
New dirt road construction,
Construction driveways

#57

Driveway gravel
French drains and other drainage
Concrete Mix
Road Construction
Retaining Walls
Septic Fields
Parking areas and sheds
Landscaping

#89

Paths and walkways
Driveways
Cemetery and grave sites
Concrete and Asphalt Mix
Pipe Bedding

Crusher Run (Crush and Run)

Driveway gravel and road construction
Paths and Walkways
Patio Paver or Flagstone base
Road base
Compatible fill
Foundation base (masonry or concrete)
Parking spots – under sheds, carports, RV, etc.
Frequently Asked Questions
Do you have questions about Gravel? We have answers!
#57s is the size of gravel most commonly used for aggregate in concrete. 
Pea gravel or pea pebbles make a great surface to walk on.  The small gravel is not slick and drains water rapidly.  Pea gravel creates a relatively smooth surface compared to larger gravel that you can feel the edges beneath your shoes and tends to shift your feet. 
Both gravel and river rock can be used for many of the same purposes.  Both come in a selection of sizes.  The primary difference is the cost of river rock is usually 2-3x more than the same size granite gravel.  River rock is generally more appealing aesthetically though. 
Crusher run, or crush and run, is the most economical gravel used for a driveway.  It is a mixture of sand and stone that makes a smooth compactible surface. 
In Atlanta and the surrounding areas of Georgia, there are a lot of types of gravel available. However, the most common types of gravel are as follows:
#89s – small pebbles
#57s – quarter to golf ball sized gravel, common on driveways and french drains
#4s – larger gravel used for construction entrances and new roads
GAB or Crusher Run – mixture of sand and gravel, common on driveways, roads, and roadbase
View All FAQs
Related Articles
See what we've been saying about
Gravel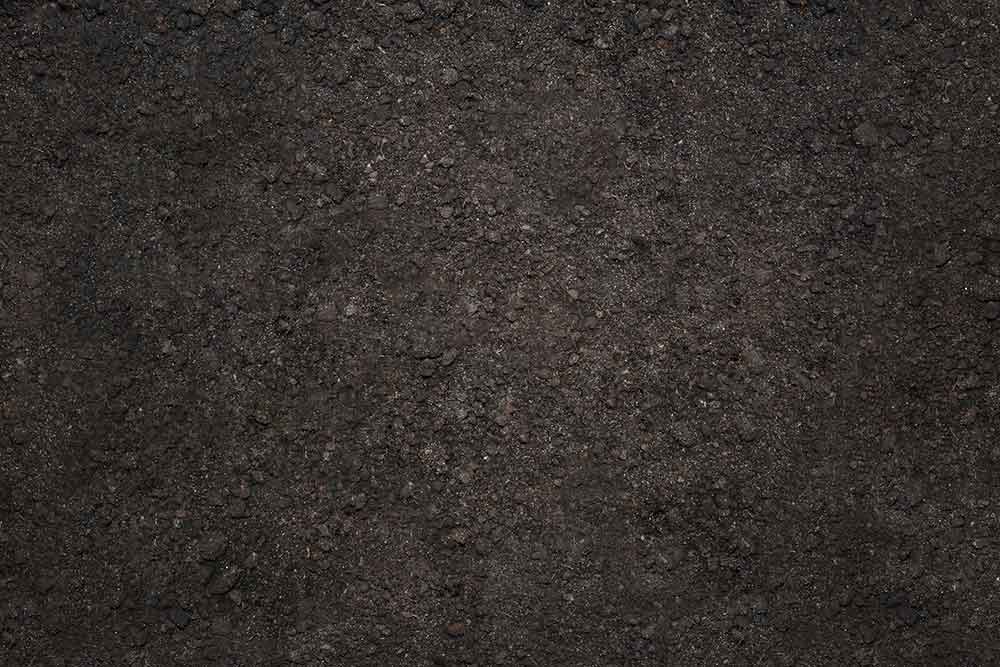 "From all of us here at CWC, we want to thank you Jessie and all involved at River Sand Inc for supporting us with your materials. Our projects have gone smoothly using your products. All the testing the engineer require and not once has your products failed. In this crazy world we live now, you guys have still schedule and deliver as promised."
— Gregg H. | Estimator
Calculate Your Project
Determine how much product you need for your project and submit it to us for a free estimate, including delivery costs.
Dredging projects and In-Field Mix are calculated separately.
{{getResultLabel()}}: {{entry.result}}