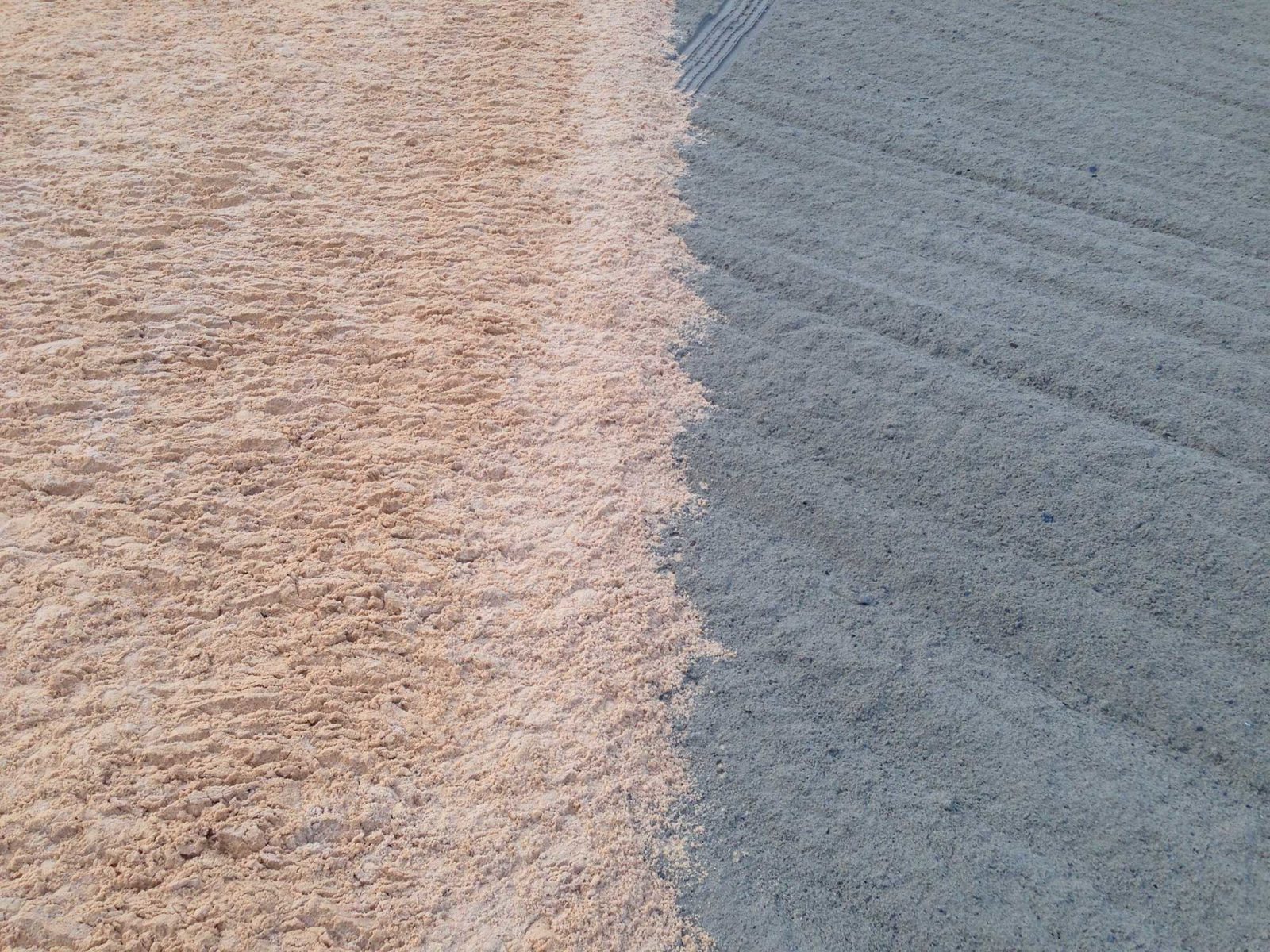 M10 Sand (Granite Sand/Dust)
Other names: m10s, Granite Sand, Granite Dust, Blue Sand, Gray Sand, Pond Sand, Paver Base, Screenings, Sand Screenings, Man Sand, Manufactured Sand, #10 Screenings, Stone Screenings
Applications
Concrete sand for construction
Paver base for landscaping
Horse arena sub-base (and for barn stall base)
Footings and foundations
Key Benefits
Affordable
Meets Concrete Manufactured Sand Specs
Compacts Easily
Specs
Screened minus ¼"
8-15% Passing #200 Mesh
Medium Durability Index
M10 Sand (Granite Sand/Dust)
Georgia is known for some of the best Granite Rock sources in the world. Granite Sand is a manufactured sand (or Man Sand) that is categorized as M10s, granite dust, blue sand, gray sand, pond sand, paver base, sand screenings and several other names.
Don't let all the names for m10s or Granite Sand confuse you though. First, granite sand or granite dust is considered a manufactured sand. That means that it is produced by taking huge granite stones from the quarry and crushing the larger granite rock until it is sand. The sand is typically gray, finely textured, and is easily compacted to a firm, smooth surface. However, not all manufactured sands are the same.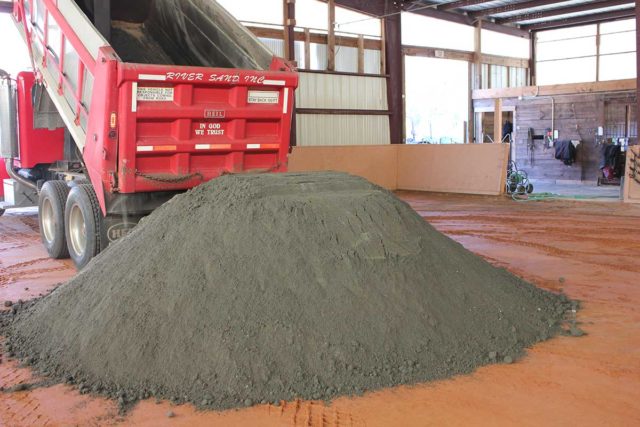 The crushing process and the properties of the granite near Atlanta gives certain characteristics to the finished sand product. Decomposed granite is different in that it refers to a softer granite that does not need to be crushed. M10s often contain 8-15% fines or dust in the sand. Also, the particles tend to be angular and flatter in shape. The advantage to the finer particles and shape is that this sand can compact relatively easy to create a firm base, such as required for patio pavers or a sub-base for horse arena footing. The finer particles are not advantageous for concrete mix, so often the granite sand can be washed to remove a portion of the finers silt and clay dust particles. This results in a slightly coarser sand suitable for other construction materials and landscaping projects. Regardless, all of our granite sand is screened to remove the larger rocks and pebbles.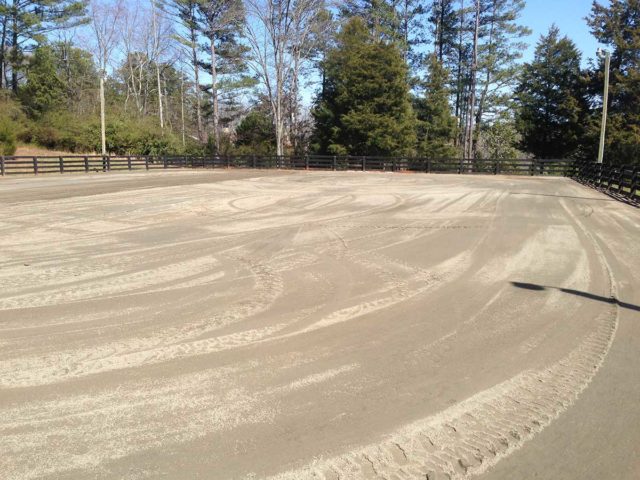 Pond sand is still considered a granite sand.
However, it often contains a high percentage of the finest particles, including silt particles, that make it suitable for limited construction and landscaping materials. Pond Sand is a product we offer in the Gainesville, Athens, and Alpharetta areas but it is not one of the most popular.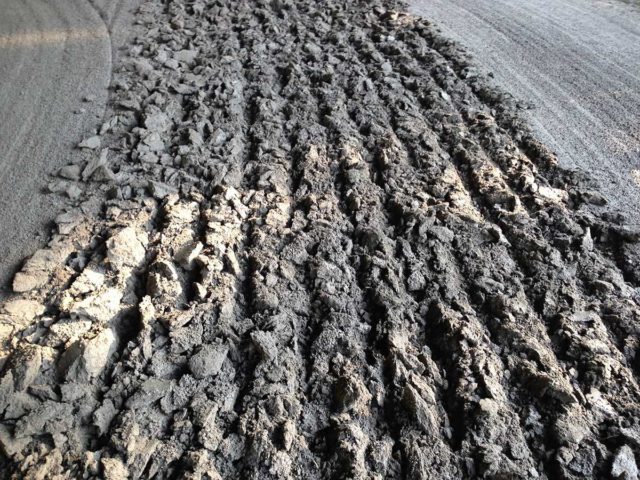 The most volume of Granite Sand, or m-10 sand, is for ready-mix concrete.
Granite Sand, or screenings, are an affordable aggregate for making both ready mix and precast concrete. Proper gradation, along with washing the sand affects with the water to cement ratio, and strength of the concrete. Consider that workability of the concrete is sometimes decreased with the high percentage of fine sand particles. Another consideration is that the shape of the particles also leads to decreased ability to pump concrete in small line concrete pumps. It is often granite sand that is in the all-purpose sand bags at the big box hardware stores in Georgia markets.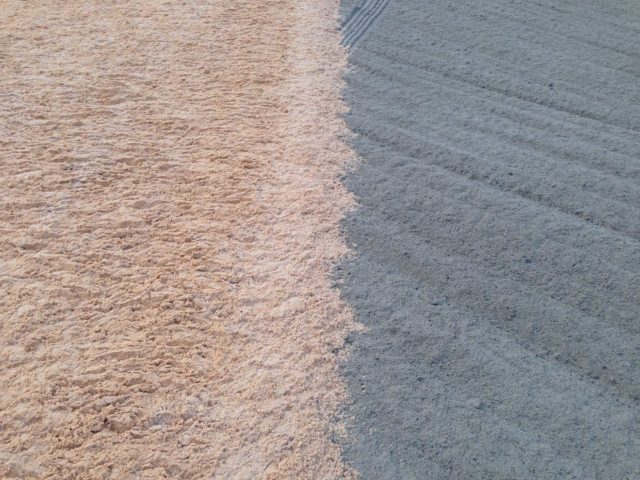 Patio paver base is the most popular construction material for your landscaping project.
The compatible sand makes an ideal bedding layer or base to provide a compact, smooth surface for pavers. The highly compatible material makes a great leveling base. The gray sand can also be used to fill between the gaps of the pavers, bricks, or stones to provide a signature gray color. However, check out our Masonry Sand that is the alternative sand that works even better for filling the gaps and providing a paver base. Patios, walkways, driveways, or paths can also utilize granite sand materials for the base or walking path itself.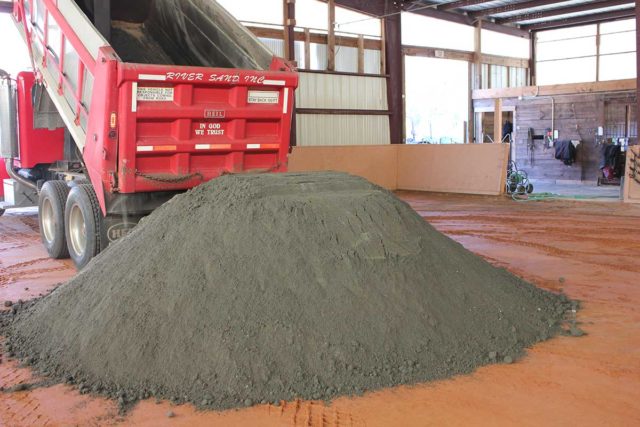 Granite dust is one of the most popular choices for horse arena footing and equestrian arena base or sub-base.
During construction of a horse arena it provides a firm, compactible surface that separates the Georgia red clay from the hoof of the horse. Granite sand is much less prone to cause a horse to slip when wet. Granite sand or m10s also does not contain rocks or stones that will result in a stone bruise to the horse's hoof. However, it is best suited for the base material for your arena. Over time the large percentage of dust is both annoying, harmful, and difficult to control if not properly watered during the summer months. M-10s become too compacted over time, and without an amendment or a proper footing on the surface, lead to hard landings and joint pain or discomfort for the horse. The selection of your Arena Footing or Arena Sand is something that we would like the opportunity to discuss what is best for your riding discipline, horse, and budget. Milton, Canton, and Alpharetta are a couple of our most popular locations we serve for our equestrian clients.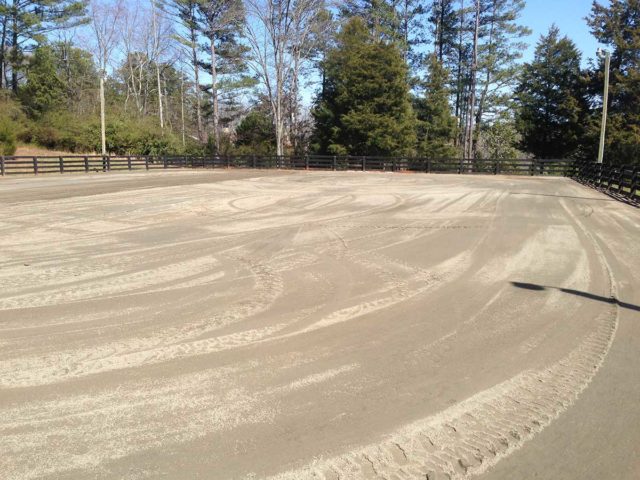 We can help you choose the perfect sand, soil, or any bulk material for your construction project or landscaping project. Just give us a call at 877-499-SAND. We look forward to serving you!
Frequently Asked Questions
Do you have questions about M10 Sand? We have answers!
M10 Sand is sand made from the process of crushing rock, usually granite.  M10 sand is typically varies from light to dark gray in color.  It can contain a mixture of coarse to fine grains of sand.  It can be called manufactured sand, M sand, Man Sand, #10 sand, rock dust, granite dust, decomposed granite, or screenings.  However, m10s typically is used for the screened, washed version of concrete sand produced by a quarry.  It is best used as a concrete sand for a compactible base beneath pavers, pathways, and arenas. 
Manufactured sand or m10s may be used for arena sand and footing.  However, dust and compaction are the primary issues with using it.  M10s make a firm compactable surface that adds to the traction of the horse. Over time it may have to be amended with a coarser sand as it wears rapidly with use.  Irrigation can be a great tool to help keep the dust suppressed. 
What is another name for Construction SandConstruction Sand is sometimes called builders sand, river sand, pit sand, utility sand, manufactured sand, fill sand, m10s, and many other names.  The reason it has so many names is that is really is a general term for any local sand that can work for purposes such as construction and landscaping.  Construction Sand is generally screened and a medium to coarse gradation, but that is not always the case.  Be sure to check to make sure Construction Sand is right for your project. 
Arena Sand comes in many different forms.  The type of sand depends on the style of riding and the needs of your arena.  Dressage and Jumpers need a finer grade sand for a firm footing.  Barrel racing and cutting horses prefer a looser, deeper coarse sand for adding protection in the sharp turns.  Also, amending your existing arena usually needs the same coarser particles to relieve compaction that happens over time.  New arenas may need either fine or coarse sand.  So, there is not one size fits all sand for horse arenas.  Masonry Sand, Concrete Sand, River Sand, and Manufactured Sand (m10s) can all work but you need to start with a basic knowledge of what type will work best for your project.  RSI can help you decide, and since we offer all these types of sand we can supply the best Arena Sand for your needs.
View All FAQs
Related Articles
See what we've been saying about
M10 Sand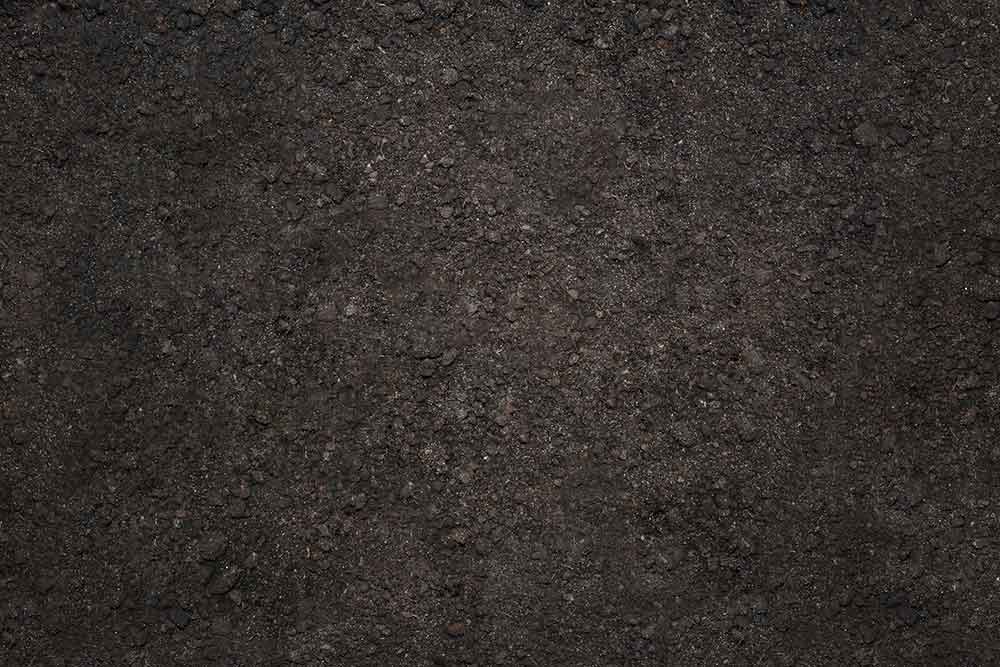 "The people at River Sand have been so generous to our school! Mr. Charles Parker [CEO of River Sand] comes weekly to Mossy Creek Elementary to mentor to one of our students; Mr. Parker provides stability, encouragement, and a friendly ear. When I called to inquire about purchasing top soil for our school garden, not only did the folks at River Sand donate one truck load of soil, but TWO loads of top soil. Without River Sand we would not be able to afford the soil that is so badly needed for our garden. (We use our MCES garden to teach elementary classes about science and growing, but also as an activity for students in counseling.) Their generosity and caring spirit is one that brings much joy, and we greatly appreciate River Sand."
— Ellen G | Mossy Creek Elementary
Calculate Your Project
Determine how much product you need for your project and submit it to us for a free estimate, including delivery costs.
Dredging projects and In-Field Mix are calculated separately.
{{getResultLabel()}}: {{entry.result}}