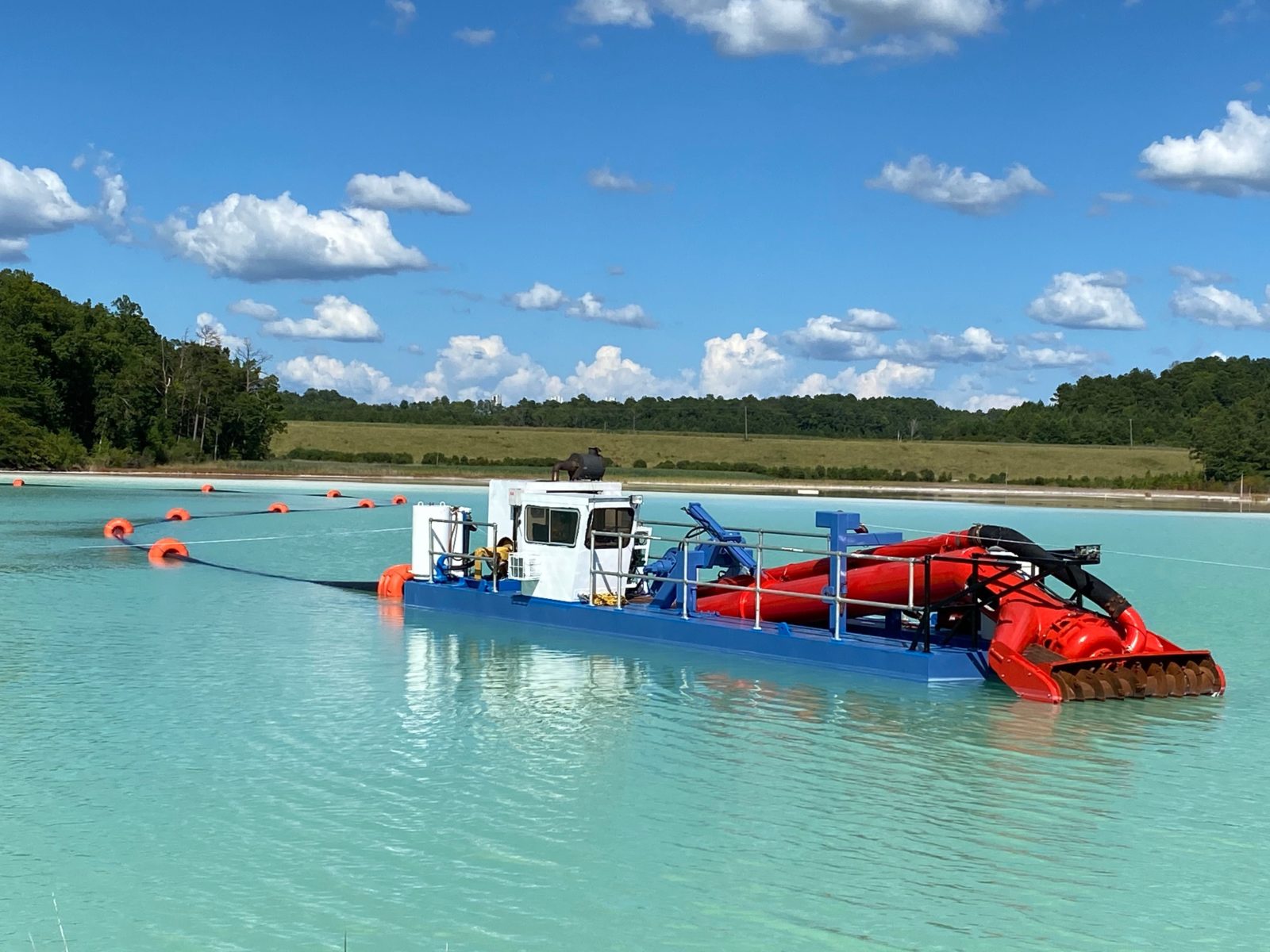 Hydraulic cutterhead dredges allow you to remove sediment without lowering the water level
Dredges can pump sediment miles through a pipeline but most projects pump 500 to 2,000 feet
Small dredges usually require a minimum of 2 feet of water to float but can dredge material that is above the water surface
Hydraulic Cutterhead Dredge
A hydraulic cutterhead dredge, sometimes referred to as a dredge or dredger, is the most popular type of machine to remove sediment or sludge from a waterbody.  Hydraulic dredges are available in many different sizes and typically are classified by the size of the discharge side of its pump.  The smallest dredges start at 4 inches which are most commonly operated remotely or with diver assistance.  More common are hydraulic dredges that are 6", 8", 10", and 12".  Portable dredges, meaning that they can be disassembled for transport, usually are sized from 6" up to 20".  Our dredging fleet contains dredges considered to be small to medium sized from 6" to 12".  Dredges from 6" to 10" are sometimes one-truck transportable offering the advantage of being transported completely assembled.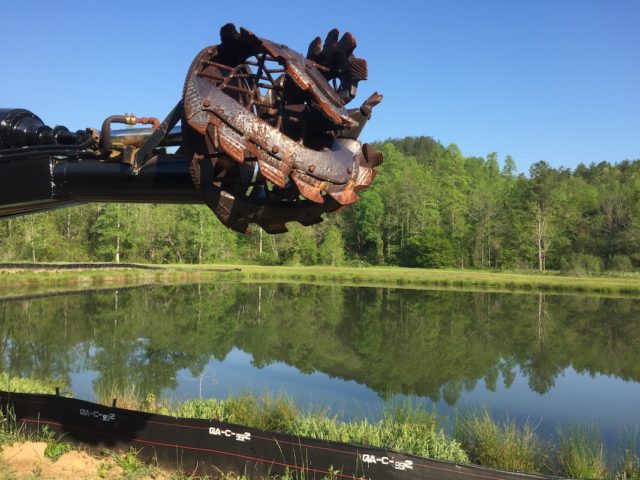 What is a hydraulic dredge and what does a hydraulic dredge do?
Hydraulic dredges are the go-to method to for dredging lakes, rivers, ponds, and streams.  Dredges can run continuously and pump large volumes of sediment through a pipeline, eliminating the need to transport sediment in less efficient methods.  The slurry discharged from the end of the pipeline is usually dewatered, a process that separates the sediment from the water.  Ponds, belt presses, dewatering screens, and geosynthetic dewatering tubes are common dewatering methods.  Once the slurry is dewatered clean water can be returned to the source to maintain the water level if necessary.
Key benefits of hydraulic dredging, pumping:
Lake or pond does not have to be drained or lowered
Low impact removal with very small area necessary for access
Recreational and navigational activities can continue
No loss of fish or wildlife
Removes excessive nutrients and sediment that lead to nuisance odors and unsightly conditions
Very little noise while dredging
Pipeline can be routed through small easements and under/across roadways for minimal impact on traffic
Disposal can occur at the discharge or dewatered for off-site disposal
Very efficient and timely removal of large volumes of sediment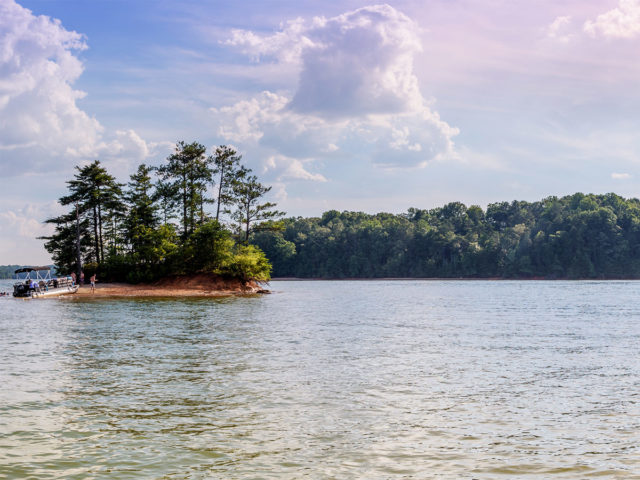 How does a dredge work?
A hydraulic dredge is placed into the water and floats.  It generally has a cable traverse system that it can move along, a winch/cable system with spuds, walking spuds, or a type of paddle wheel propulsion.  A dredge consists of a cutterhead, ladder, pontoons, operator station, engine (diesel or electric), and a pump.  Once in place the dredge is connected to a pipeline.  The cutterhead is lowered beneath the water surface and the pump is engaged.  The cutterhead rotates to loosen the sediment so that it is vacuumed into the pump and discharged through the pipeline.  The operator has many gauges, meters, and devices to determine the location and amount of material being dredged.  The slurry is generally about 90% water and 10% solids.  Booster pumps can be placed in line with the pipeline to increase the vertical head and distance the slurry can be pumped.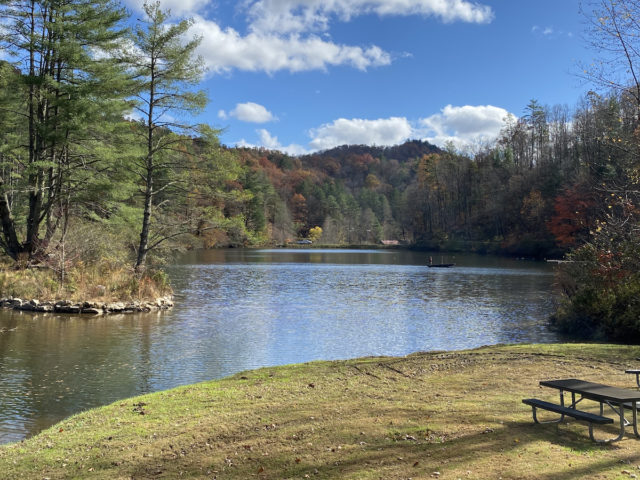 Do I need a cutterhead or auger dredge?
Generally, speaking a cutterhead dredge is ideal for many types of sediments and the smaller point of contact can utilize its power to cut or remove various types of consolidated materials such as sand or gravel.  The cutterhead can be used as a means to screen larger debris from entering the suction line and pump.  An auger dredge is more advantageous when covering a large area with low density sludge or clay sediment.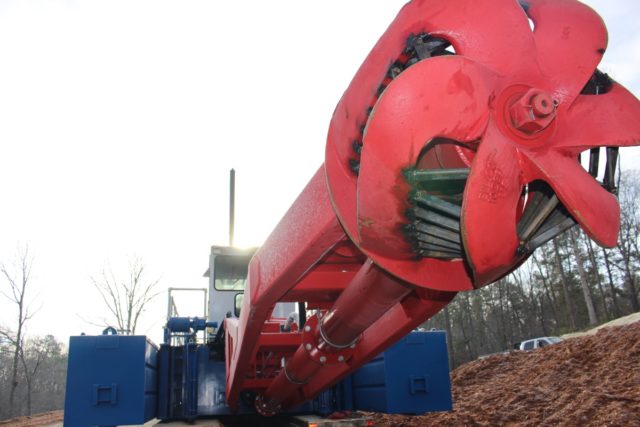 Does a gold dredge work the same way?
Dredges can be used for mining gold.  However, many traditional gold dredges are designed solely for extracting gold.  Gold dredges are designed to only lift rocks, sand, and gold to the water's surface and pass the material over a device to remove the gold.  The material is deposited immediately back into the water in most cases.  Dredging sediment utilizes a pipeline and a completely different process to move the water and sediment to be processed further.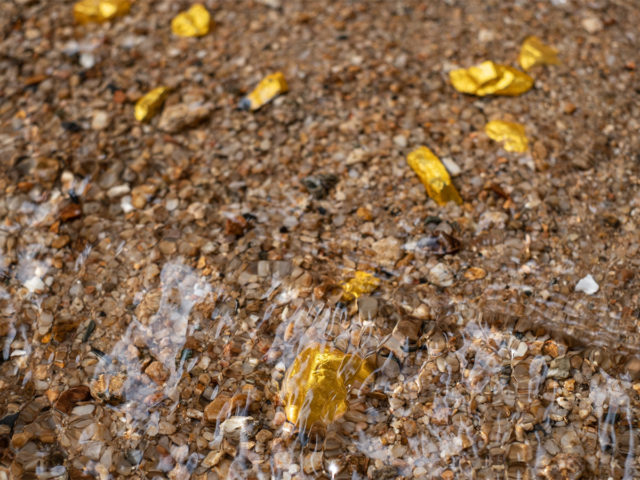 How do you dredge a lake while minimizing downtime? Can I still boat, fish, and enjoy my lake during the dredging process?
Dredging with a hydraulic dredge is one of the best methods to eliminate the need to lower or drain a lake, pond, or lagoon.  A dredge can be placed in the water utilizing an existing access point that typically requires no removal of trees.  The pipeline can be placed within the lake or along the shoreline so that boat traffic can still navigate the lake.  Fish, turtles, ducks, and other wildlife will remain unharmed during the process as the sediment removal only occurs within a few feet of the dredge cutterhead.  Typically, you can fish and boat during a dredging project.  Even better you will not be dependent on rainfall to refill your lake once the project is complete, and this dredging method does not require restocking of fish.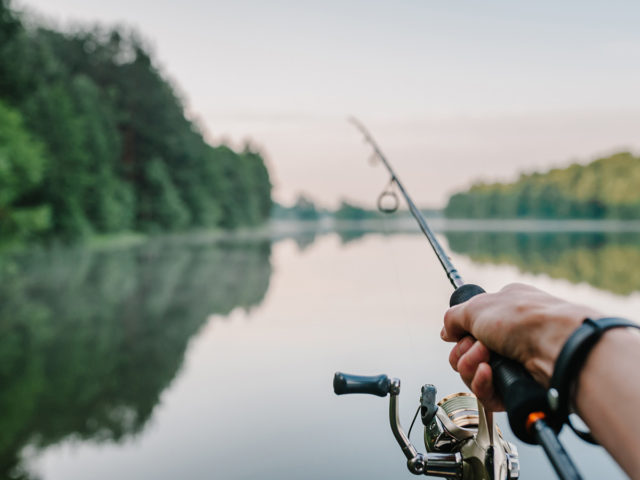 Is hydraulic dredging the cheapest way to dredge a lake?
The reason dredges are so used is because of their efficiency to remove sediment.  There are many factors involved but in most dredging project hydraulic dredging is the most efficient method to remove sediment from the lake or pond.  One of the most critical factors is finding enough room to dewater the sediment nearby, to reduce the dewatering and disposal costs.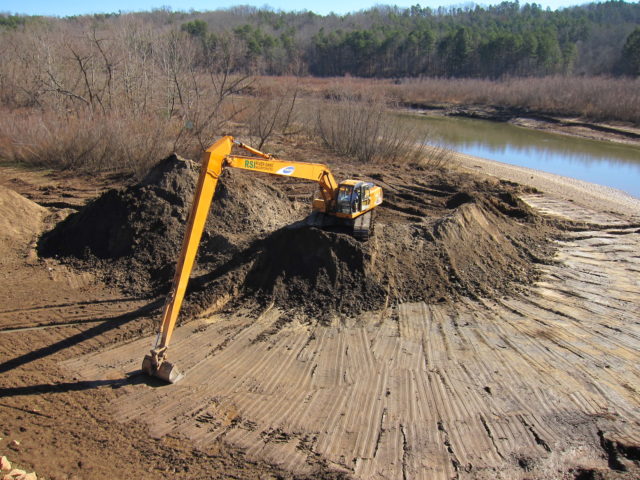 Can I dig muck out of my pond?
Yes, the alternative to hydraulic dredging is mechanical dredging.  That process involves digging or excavating sediment from a lake, pond, or lagoon.  The limitations of hydraulic dredging include removal of large debris, usually greater than 3 inches, like cobble, trash or tires, vegetation, limbs, and logs.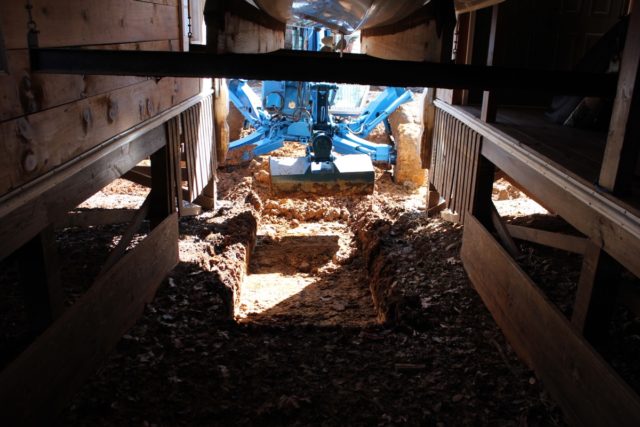 River Sand – Hydraulic Dredging Services
Hydraulic dredging is something we do every day.  We have many different types of dredges and sizes.  We even build our own dredges!  If you have questions about dredging your lake, pond, or lagoon call us to speak to our dredging specialist.
Frequently Asked Questions
Do you have questions about River Sand? We have answers!
Most portable dredges can dredge 15 to 25 feet deep. Dredges can be equipped to dredge up to 100 feet for mining applications.
Raw water intakes along rivers and streams can clog during large flooding events or over time.  Bar screens and travelling screens can prevent certain debris from entering the stilling well, but over time logs, sticks, and sediment may clog the intake.  Debris can be cleaned with an excavator is access is available.  Cleaning can also be done manually by hand but this can be a tedious process.  Another option for fine sediment clogging the intake is using a hand-operated dredge with diver-assistance.  Sediment can be removed from the front on an intake and from within the stilling well or between the screens. 
Determine the characteristics of the sediment that you need to pump including the distance and vertical head. Select a pump based on its pump curve that can perform sufficiently for the project. Select an engine that has the power requirements for the pump. Determine the weight required for the pump and engine. Build the barge capable to float and balance the weight of the engine and pump. Most portable barge sections are built in 4', 6', 8', 10', or 12' widths for transport. Attach a ladder and cutterhead capable of desired dredging depths and pump capability.
A small dredge starts about $125,000. A typical dredge cost between $500,000 and $1,000,000. Larger portable dredges cost $1,000,000 to $10,000,000.
Hydraulic dredging can be very efficient to move material from one location to another. Costs can be as little as $3-5 per cubic yard for certain materials. However, costs average from $25-75 per cubic yard for most applications. Dredging, dewatering, and disposal costs may be in the same price range but often can be more than $100 per cubic yard of material.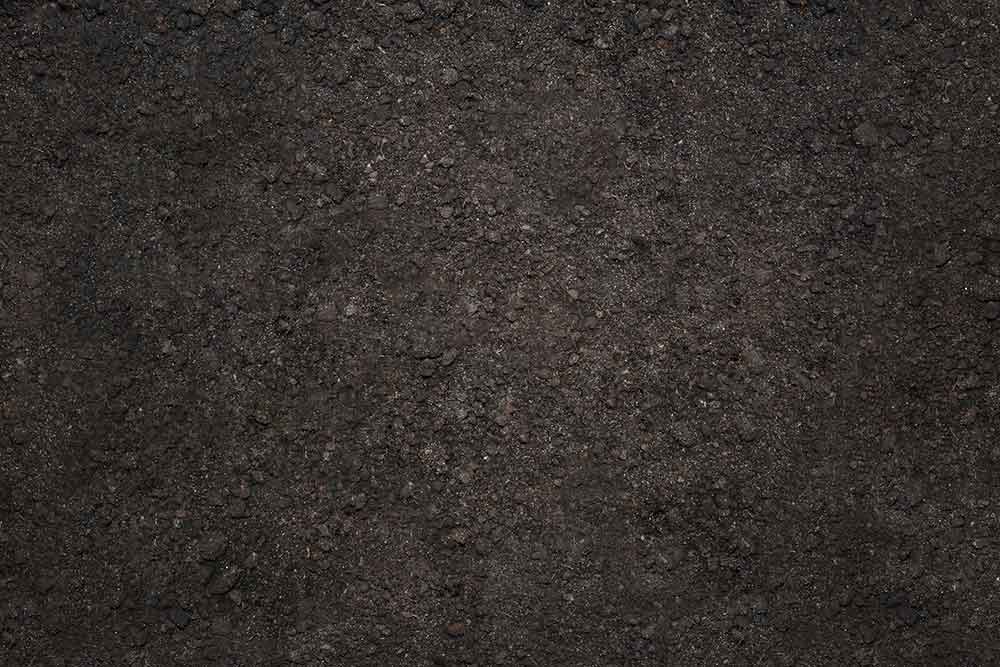 "The people at River Sand have been so generous to our school! Mr. Charles Parker [CEO of River Sand] comes weekly to Mossy Creek Elementary to mentor to one of our students; Mr. Parker provides stability, encouragement, and a friendly ear. When I called to inquire about purchasing top soil for our school garden, not only did the folks at River Sand donate one truck load of soil, but TWO loads of top soil. Without River Sand we would not be able to afford the soil that is so badly needed for our garden. (We use our MCES garden to teach elementary classes about science and growing, but also as an activity for students in counseling.) Their generosity and caring spirit is one that brings much joy, and we greatly appreciate River Sand."
— Ellen G | Mossy Creek Elementary
Estimate Your Dredging Project
Other projects and In-Field Mix are calculated separately.