River Sand Inc. knows how to produce sand, gravel, dirt, and soil for construction projects. Construction materials are our specialty. RSI has been the go-to source for construction sand, masonry sand, topsoil, dirt and gravel in Atlanta for decades. All our construction materials are produced using our own stringent quality control standards, ensuring consistency and quality load after load. Both contractors and concrete providers need quality aggregates in bulk, on-time, and affordable. RSI can provide sand, soil, dirt, and gravel to you when you need it.
Pick-up or Delivery
RSI has multiple production facilities for aggregates throughout Georgia. We offer delivery or pick-up (dump trucks and trailers only) in any quantity. RSI owns and operates a fleet of dump trucks of all sizes to fit into project sites with the amount you need. We stockpile thousands of tons of materials at different locations so you can be assured that we can keep up when your project starts.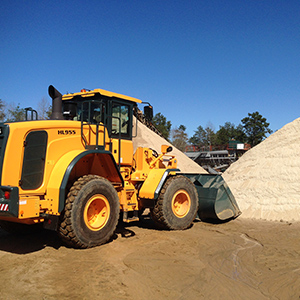 Construction Sand (All Purpose Sand)
Our legacy of consistency and rigorous quality assurance keeps our construction sand in high demand with local concrete providers, builders, developers, septic system installers (Eljen), and remodelers. Our construction sand is perfect for your construction project, concrete mixing, or filler for your job site. Ready mix, gunnite, shotcrete, pre-cast, volumetric, and other concrete providers trust River Sand to provide the quantity and quality sand that they need to supply their clients' concrete needs. Construction sand is also perfect for pipe bedding and tank lining. During the winter road crews use construction sand for sanding icy roads for improved traction along with salt spreading.

Fill Dirt
Fill dirt (Georgia red clay) is an affordable and safe option for filling in an area. Our fill dirt is made from best clay available with minimal rocks and debris. We offer high-clay content fill dirt as well as "sugar dirt" that is more granular.  Fill dirt is unscreened and varies in color.  Fill dirt is an affordable option that compacts enough to build driveways or pads for building.  Often it is the best option to fill in a low area and when capped with topsoil makes a great addition of space for your lawn or property.

Masonry Sand
We produce our tons of masonry sand for Georgia. We can provide you with the exact color and gradation of sand you need for your project, regardless of size or scope. RSI can even provide masonry sand to spec such as ASTM C-144.  Our masonry sand undergoes rigorous quality control measures to ensure it is simply the very best masonry sand on the market. Because we produce our own sand, you save the costs of a middleman, and we control the quality of our sand from start to finish.  Masonry sand is most commonly used for mortar and grout applications, but paver base is another popular use for contractors.

Industrial Sands
A very specific part of our construction sand product line-up is our industrial sands.  RSI caters to clients that need a specific type of sand, usually very specific in gradation, as well as silica content.  Uses include making glass, manufacturing, blasting, and filtration.  However, we only provide this line of products in loose, bulk material delivered in dump trucks or pneumatic tankers.

Gravel
River Sand Inc. has been a leading gravel supplier throughout Georgia and =Atlanta for decades. We offer gravel delivery in a spreader truck, to save you time and labor.
Our most popular gravel products include:
#57 Crushed Stone – This crushed granite is perfect for driveways and French drains.
Crusher Run – Because crusher run provides a hard surface, it is commonly used as a base for roads or in parking lots/pads.
#4 Gravel – This stone is often utilized to create access roads for heavy equipment and required for most construction entrances.

Concrete Sand
Our concrete sand is screened, washed, and uniformly graded.  The silica sand provides strength, durability, proper FM, and workability for finishers.  Concrete sand gradation is medium to coarse with minus 3/16" or #4 mesh.  The washing process removes fines from the sand as well as deleterious material.  We supply clients from 1 ton up to 10,000+ tons.

Topsoil
Contractors often need a little topsoil to finish the project or backfill around a foundation.  We have a great topsoil that is screened so it is easy to work with, and will provide rapid results and optimal drainage.  It is often preferred in areas over fill dirt that need to be on grade but will be used to establish grassed lawn or other landscaped areas.

Engineered Soils
Bioretention soil is another product that contractors need more commonly on the construction site.  Often site plans include specifications and requirements for submittals for this type of soil.  RSI can provide you with both the soil, the submittals, and the expertise.  We blend soil to specs, provide laboratory analysis, and the answers to any questions or concerns the engineer/architect/client may have upon installation.  Our blends are homogenous, screened, and tested.

Movie Sets and Film Crews
RSI hasn't made it famous yet, but our material has been featured in many films.  From "moon sand" to sets full of red dirt, and even shovels full of dirt for burying the evidence we have had some interesting requests.  We can supply all types of sand, soil, and gravel for constructing your perfect scene.
You as a contractor have timelines to meet, budgets to stay within, and projects to complete.  Let River Sand help you with all three objectives when it comes to selecting the perfect construction materials for your project in the Atlanta, Dawsonville, Gainesville, Athens, and Canton areas and beyond.
Give us a call at 877-499-SAND. We look forward to bringing you a truckload of whatever you need!
Calculate Your Project
Determine how much product you need for your project and submit it to us for a free estimate, including delivery costs.
Dredging projects and In-Field Mix are calculated separately.
{{getResultLabel()}}: {{entry.result}}