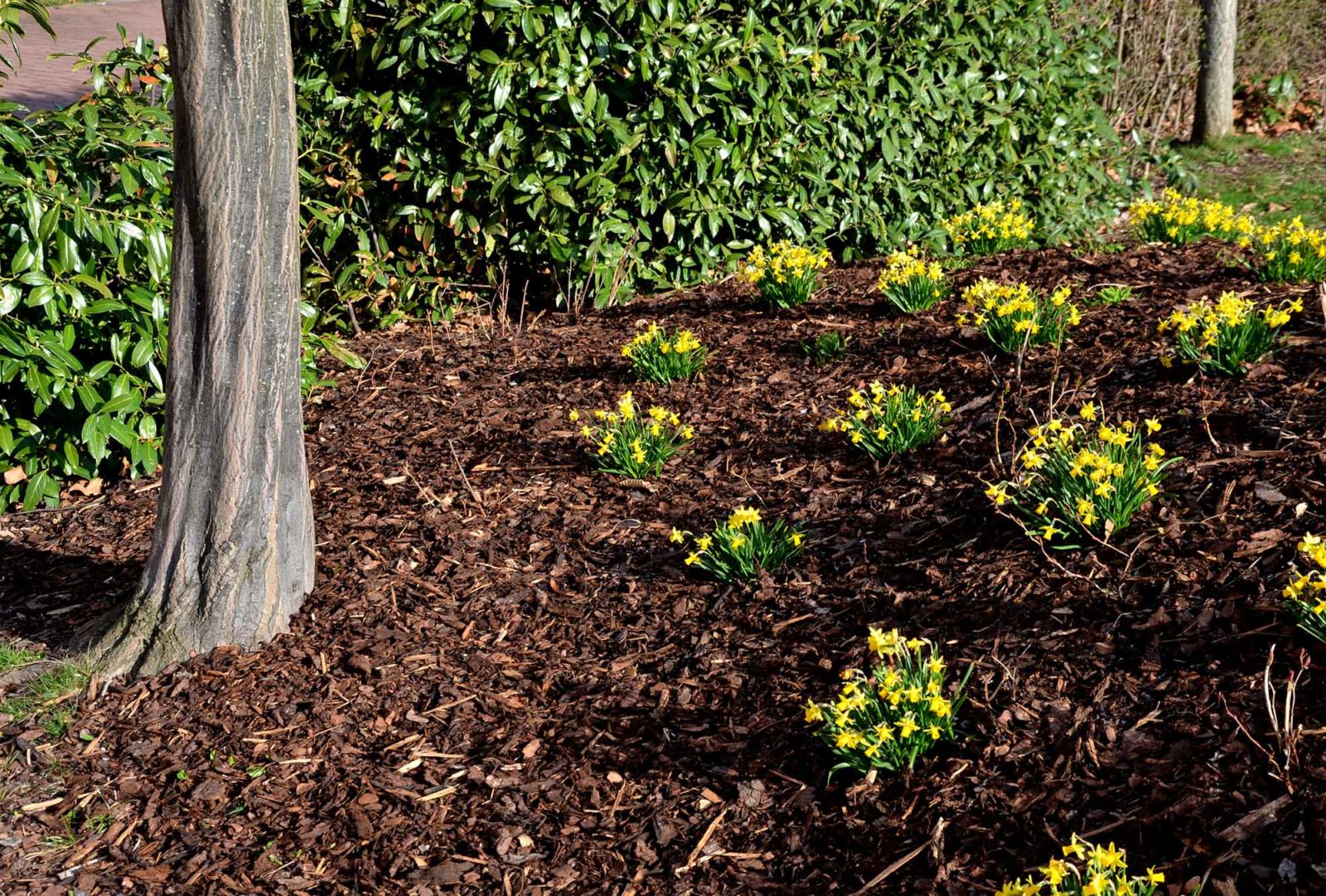 Mulch
Hardwood Mulch; Playground Mulch; Natural Mulch; Black Mulch; Red Mulch; Brown Mulch; Double ground mulch; Double Shredded Mulch; Bulk Mulch; Cheap Mulch; Dump truck load of Mulch, Bulk Mulch near me
Applications
Landscaping; Gardening; Groundcover; Erosion Control; Playgrounds; Trees (tree wells), shrubs, flowers; Landscape edges and Color accents; Walking path; Hill slope protection
Key Benefits
Beautiful, affordable landscape accent; Easy to spread without equipment or special tools; Retains soil moisture; Prevents weeds; Adds color to your landscape; Moderates soil temperature and insulates roots from extreme temperature; Adds organic matter to the soil
Specs
Colors Available – Natural Mulch (Dye free), Red Mulch, Brown Mulch, Black Mulch; Made with all natural, shredded forest products; Double-ground; Screened, free of debris; Vibrant, Long-lasting color; Colorant is non-toxic to plants and animals
Mulch refers to our extensive line of shredded forest products available as ground cover.  RSI is a supplier of bulk mulch throughout Georgia.  Our Mulch products include:
Brown Mulch
Black Mulch
Red Mulch
Natural Mulch
Hardwood Mulch
Playground Mulch
Bulk colored mulch by the truck load is available as an alternative to bagged mulch that can be difficult to transport in quantities large enough for your landscaping and gardening projects.  RSI supplies bulk dump truck deliveries to your location throughout Georgia, whether it be in Atlanta or beyond such as Athens, Commerce, Gainesville, Cumming, Alpharetta, or Cleveland.  Our Mulch products are made from all-natural forest products that are double ground for the optimal size.  The colorant for red, brown, and black mulch is non-toxic and safe for use around plants and animals.  The vibrant colors are also long-lasting throughout the year.  Mulch has multiple benefits but is most popular for its ability to accent a landscaped area near your home while retaining beneficial soil moisture for your plants.
What is Mulch?
Mulch is a very general term.  There are many different types of mulch including the following:
Organic Mulches

Compost Mulch – compost for use around flowers and vegetables for added organic matter and nutrients
Manure Mulch – made from manure and can be used to amend soils
Pine Bark Mulch – composed of pine bark of various sizes
Pine Straw Mulch – pine needles that usually come in bales
Wood Chip Mulch – chipped wood; generally finer in texture and may contain debris

Inorganic Mulch

Pea Gravel – gravel usually sized, will not decompose
Rubber Mulch – made from recycled tires and designed for aesthetics
Our Mulch refers to a double ground, or shredded, wood derived mulch that is best used for landscaping.  This type contains larger pieces than wood chips that is very attractive and lasts longer than other organic mulches.  It can be used around plants to retain soil moisture, add organic matter, and provide ground cover.
Playground Mulch is a special type of mulch with safety in mind.  It is still derived from wood products (not pallets to prevent contamination) and provides the specific type of surface for playgrounds.  It is IPEMA certified and meets ASTM and ADA specifications for playground surfaces.  Please be sure to request the specifications that you require upon ordering, as not all Mulch meets these requirements.
How much Mulch do I need? Should I buy Mulch by the bag or bulk mulch by the load?
Generally speaking you will need to apply Mulch at a minimum depth of 2" for adequate ground coverage.  Our Calculator is the easiest option if you happen to know the general dimensions of the area you would like to cover.  To give you an idea, a bag of mulch is about 2 cubic feet and covers 12 square feet at 2" depth.  A cubic yard of Mulch covers:
324 square feet at 1" of depth
162 square feet at 2" of depth
81 square feet at 4" of depth
We sell Mulch by the cubic yard, which is 27 cubic feet or 13.5 bags.  For most cases, if you need less than 1 cubic yard it is best to buy Mulch by the bag from your local hardware or landscape supply store.  If you need more than 1 cubic yard or 13-14 bags then it may be easier and cheaper to buy bulk Mulch and have us deliver a load and dump it out for you.  Fitting 13+ bags of Mulch in a vehicle is difficult.  Furthermore, you have to load and unload the bags multiple times.  Best of all buying bulk Mulch can save money.  Call us if you have questions about delivery options and calculating how much Mulch you need.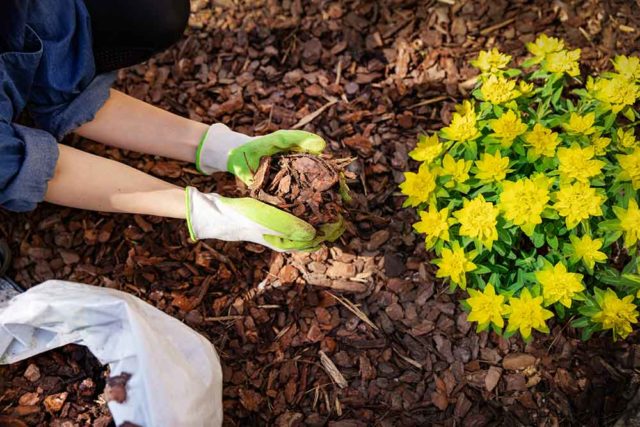 We Deliver!
Mulch is both functional and beautiful.  RSI supplies bulk Mulch by the load to contractors, landscapers, golf courses, park and recreation facilities, homeowners, and anyone else for all types of landscape projects.  River Sand, Inc. is your bulk landscaping supplier and source for construction materials including mulch, sand, soil, and gravel. We are ready to deliver Mulch for your project today!  Call for a quote and to schedule your Mulch delivered!
Frequently Asked Questions
Do you have questions about Mulch? We have answers!
Mulch offers a ground cover to prevent weeds, retain moisture for plants, and add a nice look to your landscape.  Mulch is all natural and easily maintained. 
No, old mulch makes great soil conditioner and adds organic matter to the soil.  It often breaks up and roots tend to grow through it.  Removing the old mulch will take more time and expense than necessary.  Simply place your new mulch on top of the existing mulch to renew the look.
If you need more mulch than you can fit in a car or the back of a pickup, you can probably save money buying bulk mulch.  You can purchase red, black, brown, and natural mulch by the cubic yard and have it delivered to your project or home. 
A couple of inches of mulch is ideal for ground cover but be careful not to place too much mulch around the base of a tree or shrub.  Do not cone the mulch around the base of a tree. 
Mulch may last up to 5 years but the color may start to fade 6 months to a year after installation.  In Georgia, an average yearly application is typically expected. 
View All FAQs
Related Articles
See what we've been saying about
Mulch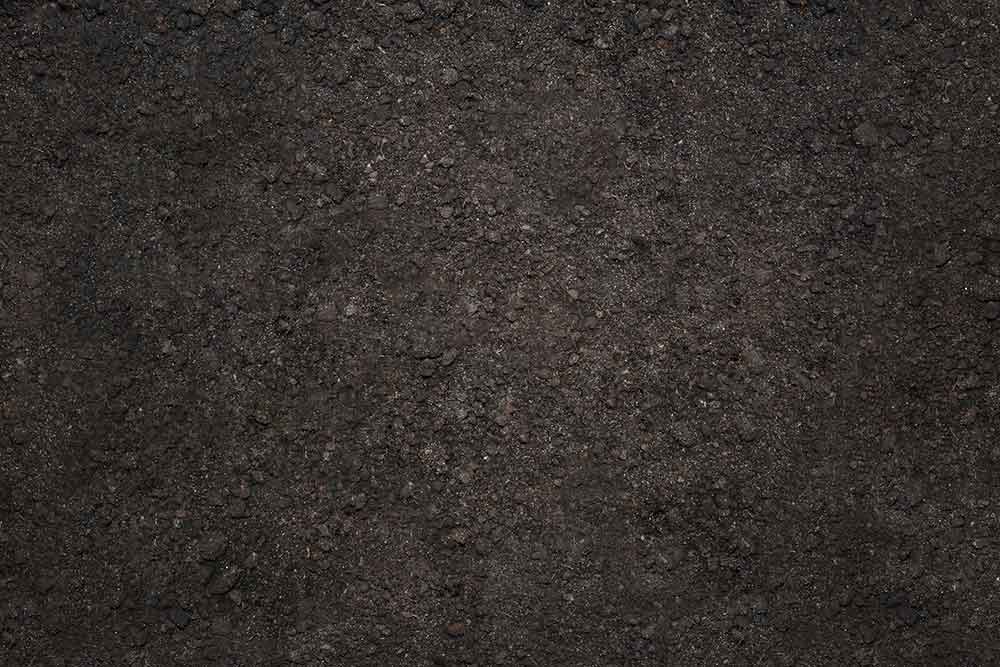 "Dealing with River Sand Inc has always been great and quotes are returned quickly. They have been a great vendor to work with. "
— Aaron B. | Commercial Estimator
Calculate Your Project
Determine how much product you need for your project and submit it to us for a free estimate, including delivery costs.
Dredging projects and In-Field Mix are calculated separately.
{{getResultLabel()}}: {{entry.result}}