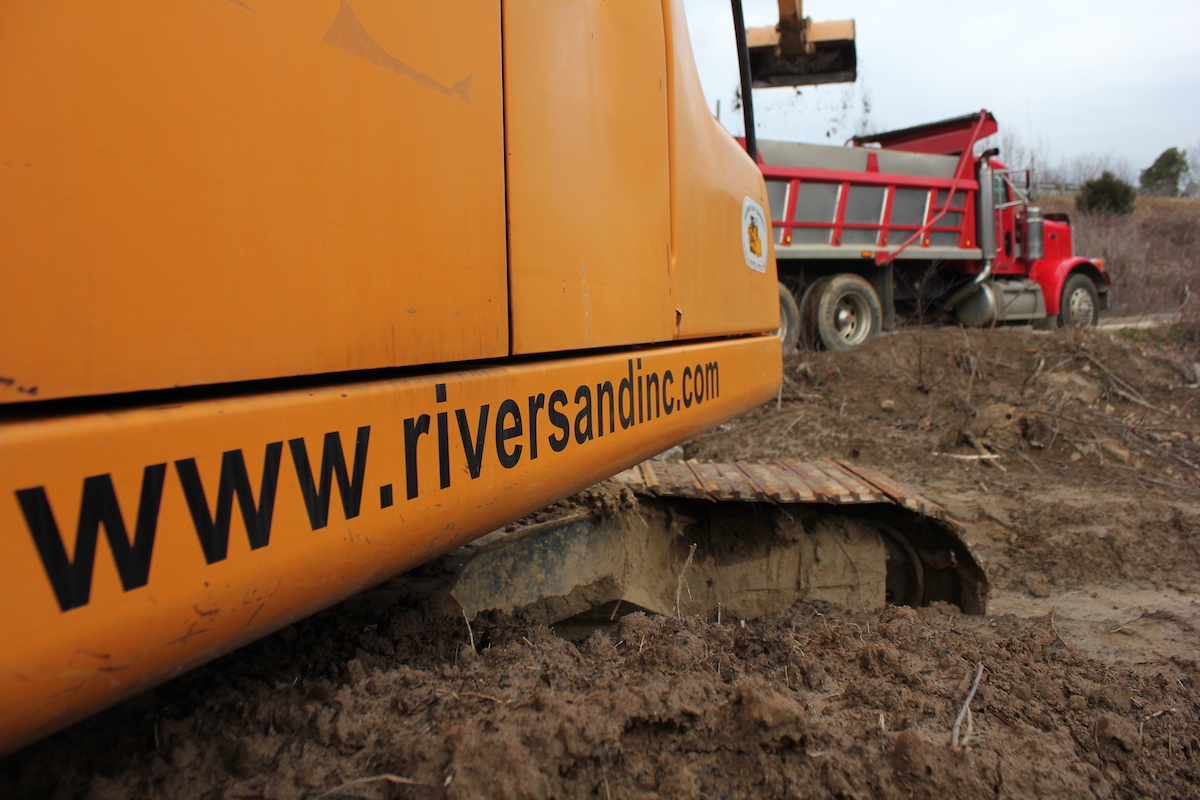 Quickfacts:
There are 2 basic methods of dredging – hydraulic dredging and mechanical dredging
Hydraulic dredge sizes are determined by the inside diameter of the discharge side of the pump
Amphibious excavators can travel and dig on land, mud, and water
River Sand's toolbox is full of options for dredging. Having the right piece of equipment is key to being effective and efficient in our industry. We have multiple long-term projects and always an array of short-term projects but regardless each project has various factors. The dredging method and equipment are never exactly the same on projects. Projects involve different approaches to limit impact and associated costs. Over the past 3 decades River Sand has built and acquired a fleet of equipment and trucks to allow us to specialize in dredging.
Hydraulic Dredges versus Mechanical Dredges
There are basically two approaches to dredging, mechanical and hydraulic. Mechanical dredging involves removing sediment with machinery usually with a bucket of some type. The most common types are an excavator or clamshell bucket. Hydraulic dredging includes the use of a pump, usually barge mounted, to move material in a slurry via a pipeline. Both can be very practical and efficient depending on the material type, depth, and location of its destination.
Dredging contractors often try to emphasize one method or the other based on the services they offer and equipment in their inventory. RSI has all types of dredging equipment. We realize that to be efficient and effective in the market there is a demand to employ more than one type of dredging method.
Hydraulic dredging is very cost effective if the sediment is being placed nearby (within a few thousand feet) and there is an area large enough to dewater the slurry and return the clean water. Dewatering technology has improved with the use of dewatering systems or geotextile tubes but the amount of water demands some area to work within.
Mechanical dredging is quick and accurate but is often limited to reach from the shoreline or barge. Long reach excavators can reach from 50-70 feet and draglines a little further but less accurately. Barge mounted machinery must load material into a hopper barge for transport to land. Another option RSI has developed is the use of 2 types of amphibious dredges.
The RSI amphibious excavator can float in the water and walk on land. It can travel up on soft material to remove it without sinking, and even dig while floating. This feature allows for access to many sites. The second type of amphibious dredge, called a spyder, is capable of walking in 6 feet of water! It has an extendable boom and pivoting bucket for removal in hard-to-reach places. The "legs" make it capable of walking over seawalls without touching them.
Another hybrid dredging option is available as well. The hybrid dredging method involves our excavator with a slurry pump as an attachment. The hydraulically powered pump is mounted on the end of the boom to pump via an attached pipeline like a dredge. This hybrid method is applicable in many situations.
What is the difference in a cutterhead dredge and auger dredge?
Both cutterhead and auger dredges are types of hydraulic dredges. Both types have power units on a barge and a pump that moves sediment via a pipeline. Each one can come in various sizes and ways to travel within the water (cables, walking spud, paddle wheels). The difference is the method of which the dredge contacts the sediment. A cutterhead is generally a basket, circular or cone shaped, on the ladder of the dredge (portion that extend and lowers under the water) that spins in a circular motion around the suction pipe inlet. The cutterhead can be very aggressive with large cutting edges or somewhat closed off depending on the material. In contrast, an auger dredge employes an auger that on portable dredges is typically 6-8' wide that rotates to pull sediment from the outside edges in toward the suction pipe inlet. Auger dredges are typically more beneficial in sludges and low density clays that can be cut easily. Cutterhead dredges can be found in all applications but uniquely in sand and gravel operations.
How deep should I dredge? How deep can I dredge?
Dredging depth is technically limitless. However, most portable hydraulic dredges maximum depth is 15 to 25 feet in depth from the water surface level (which sometimes can be lowered). Standard mechanical dredges, including backhoes and excavators, can dig 20 to 30 feet with long reach excavators reaching up to 60 feet depth. The better question may be as follows. How deep do I need to dredge? What is the purpose or goal of dredging? Most of our projects don't require dredging to depths that navigational channels, pit mining, or open ocean dredging requires. The typical depth range for dredging is up to 6 to 10 feet.
What other equipment is needed for dredging?
Having a dredge or even a lot of dredges is just the starting point. River Sand has more support equipment inventory than dredges. Site access, mobilization, demobilization, dewatering, transport, disposal, and operation require a lot of heavy equipment along with a few small, specialized machines. Here is a glimpse at the equipment we have in our inventory:
Earth Moving – dozers, excavators, skid steers, wheel loaders, tracked loaders, forklifts,
Trucks and Trailers– dump trucks, dump trailers, lowboys, landolls, flat beds, water trucks
Lifting – boom trucks and cranes
Dewatering – Aqua-Clean System, dewatering screens, geosynthetic dewatering tubes, weir systems, dewatering boxes, classifiers
Polymer Injection Systems
Pipeline Fusion Machines
Road and Crane Matting
Warehouse and Portable Storage
HDPE Pipeline and Floats
Without an inventory of necessary equipment projects can stall out, plans can change, and options are limited. Many other contractors rely on change orders to avert the risk and cost incurred to rent or sub-contract the work in a timely manner. River Sand approaches it differently with expertise and equipment readily available.
How do you dredge a pond yourself?
Equipment is key. Many do-it-yourself owners and contractors find that they would like to attempt to dredge a pond themselves. Usually, reducing cost is a primary goal. Renting an excavator, usually a mini-excavator, is one option that allows for up to 15 feet of reach from the shoreline and can be effective for sediment. A drawback to the limited reach is the limit of how much sediment you can place or relay next to the machine if you place the sloppy sediment on the ground to dewater (it may run back under your machine). However, if you have time to work it slowly or transport it with another machine while digging it can work. Walking the machine out on top of the sediment usually requires mats to prevent the excavator from sinking into the mud.
Another option to pump the material is renting a trash pump. While these pumps are not designed to remove concentrated sediment, it is possible. The biggest limitation to this process is the ability to suck the large debris within the sediment (sticks/rocks/vegetation) and the debris to pass into the suction and through the pump without clogging. However, depending on the factors it can be done but get ready because it is a lot of work in most cases.
The purchase of a dredge is also a possibility for some owners. We have a factory-made diver operated dredge that is marketed for this purpose but it is very limited to specific types of projects and materials, otherwise it is useless. The point is that selecting the right dredge is critical. Also, having an effective plan related to operations and maintenance will be necessary. Operating a dredge involves different aspects related to pumping than many other types of heavy equipment. The biggest challenges are not acquiring a dredge, rather it is having the right equipment with someone to operate and troubleshoot issues as they arise. River Sand, Inc. has equipment for removal of small volumes of sediment, <25 cubic yards, all the way up to large projects to remove 100,000s or 1,000,000s of cubic yards of sediment. Let us help you decide just what you need.
Estimate Your Dredging Project
Other projects and In-Field Mix are calculated separately.